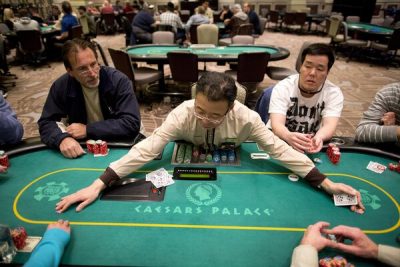 This week's poker news starts us off with the latest COVID-19 update from Las Vegas. Poker players are going to feel like things are finally starting to get back to normal.
Majority Of Las Vegas Poker Rooms Will Remove Plexiglass Dividers
A good portion of the poker rooms in the Las Vegas area are taking a massive step back to returning to normal. However, it's been announced that all plexiglass dividers that were installed to separate each player are now going to be removed. Casinos were able to come to this decision after the Center for Disease Control reported that vaccinated individuals should not have to social distance or even wear a mask.
The poker room located in the Wynn Resorts was one of the first to remove those dividers. They had taken them down right after they were allowed to operate at full capacity, so they didn't waste any time. They want customers to feel as comfortable as possible.
As of right now, there are only a few poker rooms in the area that haven't removed their plexiglass dividers just yet. The Golden Nuggets, the Venetian and the Orleans still has them up. Each of them may begin to take them doon sooner rather than later.
Online High Roller Poker Tournament Comes To A Close
It was a fantastic day for Daniel Dvoress, who was able to escape with a victory during the GG Super MILLION$ $10,300 buy-in event. Dvoress had to first overcome a field of 191 total entries in order to claim the top prize of $394,852.
It wasn't an easy road for Daniel as he was locked in a tight three-way race involving 'McDavid97' and Mike Watson, former European Poker Tour and World Poker Tour champion. The final table even included another former champion in Ami Barer, who won the Aussie Millions main event all the way back in 2014.
This wasn't the first major win of Dvoress' career as he has a number of big-time titles already. Dvoress has more than $18 million when it comes to total recorded tournament winnings. The largest sum of money that he has won during his illustrious career was during the 2020 World Series of Poker Online, when he took down a field of 6,299 entries during the Millionaire Maker event. The win netted him a nice $1,489,289.
Maziar Keshavarzi Wins Wynn Spring Signature Series Event
Maziar Keshavarzi of Texas was able to overcome a field of 851 total entries to win the 2021 Wynn Spring Signature Series $1,100 buy-in no-limit hold'em event. The victory netted him the largest chunk out of the $833,300 prize pool. Originally, they were expecting a pool of $400,000 due to the guarantee but it grew much bigger.
Keshavarzi ended up striking a deal in four-handed play, helping him walk away with $105,089. It was a huge win for Keshavarzi, who had never walked away with a six-figure score before in his career. His total career earnings now jump up to $720,565, with his previous largest score coming during the Latin Series of Poker Millions main event back in 2014. Where he finished in third place and won $75,675.
Along with the money, Keshavarzi received 912 Card Player Player of the Year points. It helped him move up to 13th place in the 2021 POY race.