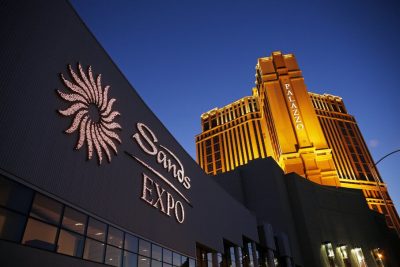 One of the stalwarts on the Las Vegas Strip has sold. Although it was expected for some time, it's still a sign of the changing times to see The Venetian changing hands. Let's start there as we recap this week's news.
Las Vegas Sands Corp Sells Properties On Strip
Change is coming on the Las Vegas Strip. Las Vegas Sands Corp. has been talking about selling out of Las Vegas for some time and now they have. They have sold each of their properties on the Strip, including the Venetian, the Palazzo and the Sands Convention Center. Those properties were sold to both Apollo Global Management and VICI Properties for a combined $6.25 billion. According to the latest report from CNN, Apollo had spent $2.25 billion while VICI spent the remaining $4 billion.
A few months ago, there were rumors that this sale was coming very soon. Many had thought that the company was going to begin to focus on their properties in Asia. It seems that this company is also continuing the fight to legalize brick and mortar gambling in the state of Texas, something that their former owner Sheldon Adelson was lobbying for before he sadly passed away. A move into the Lone Star State appears to be a distinct possibility.
Sportsbook Partners With DISH
The future is now, with gamblers soon being able to place their best directly through their television. It was recently announced that DraftKings will be partnering up with DISH network to allow all of their customers a Hopper receiver to give access to their sportsbooks from the TV. They will now be able to place their bets on either side of the television while simultaneously watching the game.
If done right, this partnership could be a complete revolution for in-game wagering while also making the betting process easier. All customers will have to finalize the bets from their mobile devices.
DraftKings has been very active in the marketing realm lately, making a number of big moves. Outside of this new partnership with Dish, they struck a deal with the Ultimate Fighting Championship to become the official sportsbook of the UFC. It is a five-year, $350 million contract.
Macau Gambling Revenue More Than Doubles In Month Of February
Macau Casinos were able to skyrocket during February, bringing in $15.14 million from bettors and going down as a 135.6 percent year-over-year increase. Keep in mind that while those numbers don't sound all of that impressive, remember that the COVID-19 pandemic hit China early and Macau was all but shut down last February.
This finally snaps a 17-month streak of year-over-year declines as well with the market slowing down even before COVID first hit. Although, tourism did drop around 65 percent even though it didn't truly end up affecting Macau during February.
MGM Resorts, Wynn Resorts and the Las Vegas Sands Corp were all able to see increases in revenue this past week. The government has also removed a few restrictions for citizens to enter from the mainland, which is bound to help support the properties and get everyone back on the right track.