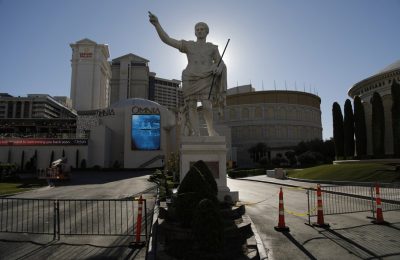 This week's casino news starts off with a headline we're likely to see many more times in 2021: casino company sues insurance provider. We'll begin there as Caesars is looking to recoup some of their COVID-19 losses.
Casino Company Sues Insurance Provider
There are a lot of ongoing legal battles between businesses and insurance providers due to COVID-19, and we're likely just getting started with these lawsuits. Over in the casino realm, Caesars Entertainment has recently filed a lawsuit against multiple insurance providers for a total of $2 billion over claims that they failed to provide coverage for their lost profits due to COVID-19. While the company was able to file the suit in Las Vegas, it stands for all 50 of their properties across the world.
Caesars bought very insurance protection to protect themselves against the loss of profit or any type of damage that might get in the way of their casinos and COVID-19 obviously wreaked havoc on them. The group has been making the argument that the government shutdowns are a part of that damage and loss of profit.
Not shockingly, Caesars isn't the only group in the gaming industry who has sued their insurance provider lately. Phil Ruffin, the man who owns both Treasure Island and Circus Circus, had sued AIG last year after they failed to provide any type of coverage after the government shutdown. This is almost identical to the claim that Caesars is currently making but it is yet to be seen how the suit will play out from here.
Second Online Poker Platform Launched In The State Of Michigan
Michigan isn't wasting any time making moves in the poker realm. Shortly after launching one paker state, a second one is now available to players. PokerStars was the first company to set up and launch an online poker market in the state of Michigan but now BetMGM has thrown themselves into the mix. This comes a few months after BetMGM had finalized their online sports betting and casino games in Michigan.
BetMGM now has two different markets where they offer online poker: New Jersey and now Michigan. Although there has yet to be any interstate gaming compacts, though, that may change in the coming weeks as things start to settle down. There appears to be an opening where tournaments can be run across state lines. It makes sense that New Jersey and Michigan would share their online poker player pool due to both BetMGM and PokerStars running online poker in each of those states. This would allow for bigger tournaments and bigger prizes.
Michael Liang Wins 2021 LA Poker Classic Main Event
Michael Liang has taken home the top prize in the 2021 LA Poker Classic $10,000 buy-in main event. Liang was able to overcome a field of 69 entries in order to claim his title along with a prize of $175,300.
This event will now be marked down as the second biggest score of Liang's careers so far, sitting behind his $182,920 prize from his first-place finish in the WSOP Circuit Horseshoe Baltimore $365 buy-in. Liang now has a total of $495,751 in career tournament earnings and you can imagine that he isn't going to just stop there.
This year's edition of the LA Poker Classic had a lot less entries compared to the same event in 2020 but it was still a great turnout. In 2020 the event picked up 290 entries instead of the 69 in 2021. But most of that may have been due to the entire series being decreased compared to 2020, as they only held eight total events.