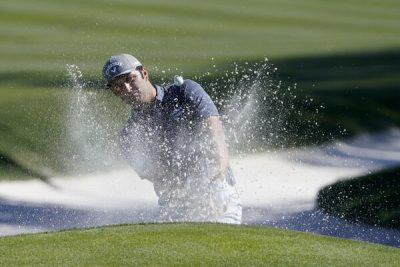 This year's golf calendar has changed up as the golf majors are far more condensed. Even though it feels like the PGA Championship just ended, the U.S. Open is upon us, taking place at the South Course over in Torrey Pines. It's a loaded field for this event and it is anybody's guess as who will emerge victorious here – especially after Phil Mickelson won the last major. Let's take a closer look and see who has a shot to win.
Favorites to Follow
Jon Rahm (+1000) is the current favorite to walk away with the win at Torrey Pines. Rahm (pictured above) was in line to win the Memorial Tournament but ended up withdrawing with a six-stroke lead after the third round after he tested positive for COVID-19. He is also not even expected to be cleared until the day before the U.S. Open officially starts but that hasn't affected his odds one bit. He knows the course well also as he won his first PGA Tour tourney at Torrey Pines back in 2017.
Dustin Johnson (+1600) is second on the list and while he may not be the best player in the world right now, he is always a threat to win a major. He trails only Phil Mickelson and Tiger Woods on the career earnings list and grabbed 10th place during the recent Palmetto Championship. That's a step in the right direction but keep in mind he's missed the cut at both majors so far this season.
Brooks Koepka (+1600) shares the same odds as Johnson as he has a ridiculously good record when it comes to major events. He's collected four wins and three second-place finishes from 14 different tournaments. The only small issue is his knee as it is clearly not at 100 percent. However, Koepka was able to get close to winning the PGA Championship a little while ago, so that knee must be good enough to compete.
Longshots to Watch
Viktor Hovland (+2800) has a great chance to prove that he is more than a longshot. Throughout his last 15 events, he has finished in the top three on the leaderboard in six of them. One of his most recent starts came during the Farmers Insurance Open back in January when he finished in second place, so he's been buzzing around for a win.
Patrick Reed (+2800) is another player to keep an eye on throughout this tournament. Looking back at his last six majors, Reed hasn't finished below 17th place in any of them. He's pick up a win this year – at the Farmers Insurance Open in January – and his fantastic short game will come in handy.
Will Zalatoris (+4500) seems to know Torrey Pines pretty well after competing in the Farmers back in January and he's been great lately. In his last three majors, he has finished in sixth, second and eighth. Zalatoris is rapidly improving overall as his career pushes forwards, he could take a giant leap with a victory here.