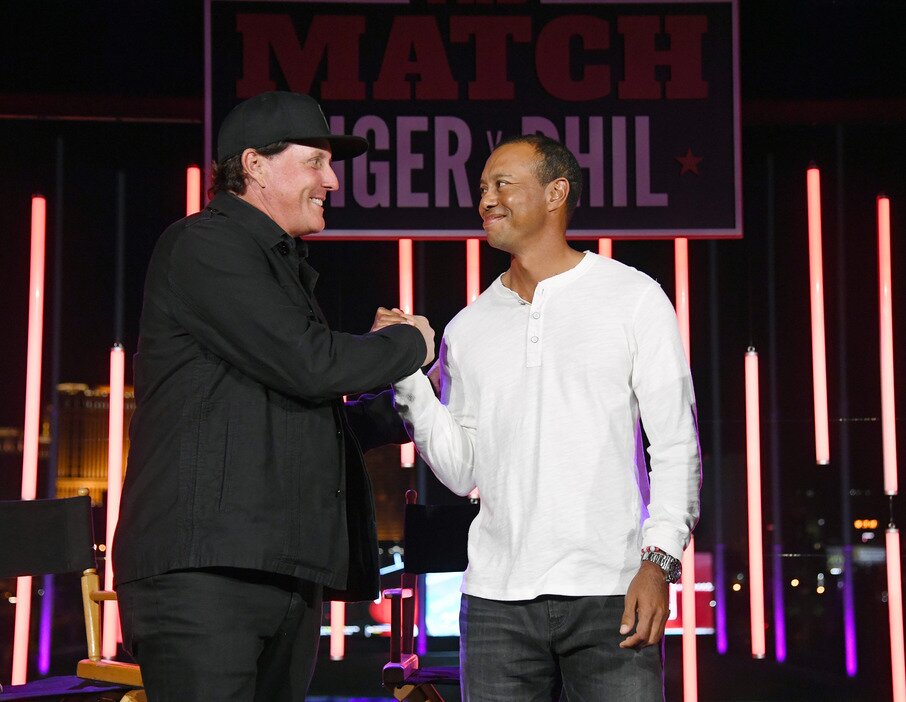 Following a successful exhibition skins match on Sunday when Rory McIlroy, Dustin Johnson, Rickie Fowler and Matthew Wolff competed and raised $4 million for COVID-19 relief efforts, we'll have another entertaining exhibition this weekend too.
On Sunday, we'll have a head-to-head matchup of Tiger Woods and Peyton Manning teaming up against Phil Mickelson and Tom Brady. The event will be called the Champions for Charity and we've already got some betting lines up on the showdown. Let's take a closer look at how this event.
The Match: Champions For Charity Odds
How This Tournament Will Work
The Champions For Charity event will pair two golf legends with two NFL legends in a head-to-head showdown. The contest will take place on Sunday, May 24th with the action teeing off at 3:00 p.m. ET. You'll be able to watch all of the action on the Turner Sports family of networks, which includes TNT, TBS, truTV and HLN.
In terms of the format, we're looking at two different variations as the front nine will be played differently than the back nine. It's all a match play format but the front nine will be a Four Ball format while the back nine will be the Modified Alternate Shot format.
In other words, we'll see all four participants play their balls on the front nine and whoever has the best score for each team is the one that's counted. As for the back nine, each player will tee off but after that, they will choose the best drive and then alternate shots there until the ball is holed.
All of the action will take place at Medalist Golf Club in Florida and at least $10 million is expected to be raised for coronavirus relief efforts. Beyond jus the regular showdown, we're also expecting to see some on-course challenges that pop up, which will allow for even more money to be raised for the good cause.
Woods/Manning Favored
Mickelson and Woods played a head-to-head showdown in 2018 and Mickelson won that match but he still finds himself as the underdog in this spot. It appears that Manning is the superior player to Brady, which is why the Woods-Manning duo is favored. Manning is a six-handicap golfer while Brady is an eight-handicap.
One key factor to keep in mind is that Woods is a member at this prestigious golf club, so he's quite familiar with the course. That could have an impact here and that's probably why he's posted as the favorite. On top of that, he's teamed with what appears to be the better golfer.
In terms of what we've seen from the golfers in the 2020 PGA Tour season, Woods has a win and three Top 10's in his four starts. As for Mickelson, he's missed the cut in four of his last five starts, although he did place third at the AT&T Pebble Beach Pro-Am in early February.