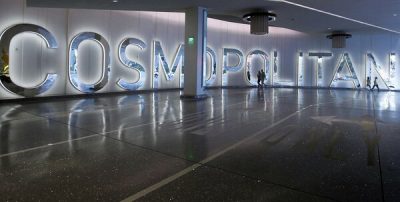 Casinos and crime unfortunately go hand-in-hand and this week, we start of the casino news with a recap of two bizarre stories where criminals tried to get over on casinos.
Cops Arrest Man Who Robs A Las Vegas Strip Casino
Tuesday morning was a day to forget for the Cosmopolitan Las Vegas casino as a man charged in and robbed the place. Ronald Allison walked into the casino and charged over to a cashier, dropping a duffle bag once he reached the cage. Then according to a note, he slid the cashier, said "Give me 10k purple or Boom."
The teller that was being confronted said that he heard a bang when the bag was placed down and he got the impression there was a firearm of some sort. The teller hit the panic button after handing over the money and cops tracked him down using their surveillance footage at a nearby hotel. Once he was in custody, he had admitted to everything and was charged with burglary with a firearm and suspicion of robbery with a deadly weapon.
A few years back, the Bellagio was robbed in a similar fashion. In that case, the man who was robbing the place tried running away from the cops and was subsequently shot and killed. Sadly, these types of incidents aren't necessarily rare in the Las Vegas area.
Nun Accused Of Stealing $835k From Catholic School To Fund Gambling Addiction
The St. James Catholic School has been involved in quite the scandal. One of their nuns has been accused of embezzling money from the school in order to fund her bad gambling addiction. The nun in question was Sister Mary Margaret Kreuper and she actually pled guilty to the charges just a few days ago as part of a plea deal.
Kreuper was the principal of the school and apparently stole a whopping $835,339 from the property. Not only did she use the money on her gambling habits, it was also alleged that she used parts of the money to pay off a few credit cards.
Krueper was the principal for a long 28 years yet was running this very long scam dating back to 2008 before retiring in 2018. Sadly, she was in charge of receiving donations as well and it is unknown how much donation money she stole as well.
New York Casino Plans To Be Built In Strip Mall
There is a brand-new casino coming to New York and it is supposed to be in an unusual spot. According to one newspaper in the area, the casino is planned to be constructed in the Hudson Valley, right in the middle of a local strip mall. Early expectations are that the casino will be fully functioning and built by early 2022.
The property is set to be named Resorts World Hudson Valley and there isn't supposed to be any traditional table games nor will there be physical dealers.
With this new move, it is clear that the gambling expansion in New York is among their top priorities right now. As tons of companies are itching to get a license if they are to legalize sports betting. Such as Wynn Resorts, Las Vegas Sands and Bally's Corp.