Straight slot machines (also known as flat-top slots or static slots) are the ones with nothing flashy: one payline, one jackpot and no bonus games. Oh, and the jackpot prize is never progressive in straight slots.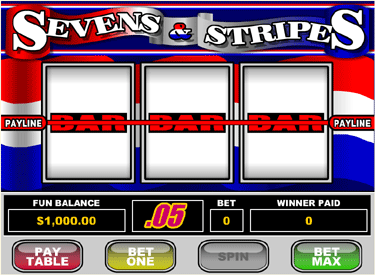 The famous Sevens and Stripes is a straight slot machine.
Static slots are the original slot machines and for many years remained the only kind of slots you could play. The first static slot (in fact, the first any kind of slot) was Liberty Bell, which was invented in 1888 by Charles Fey, and it took until 1963 until Bally Technologies Inc. created the first electricity-powered slot machine called Money Honey, which took multiple coins and had sound effects.
After that, manufacturers moved on to add more and more flash, progressive jackpots and bonus games to slot machines.
I play flat-top slots for two reasons:
I like to live a minimalistic life so flat-top slot machines appeal to me. They're the simplest possible slot machines you can find and I prefer them instead of all the fancy sounds and animations.
The fancier the machine, the lower the payback usually is – after all, fancy slots cost more and us players have to pay for it. In general, straight slots have the highest house edge and therefore are the best kind of slot machines you can choose.
On top of having a lower house edge, flat-top slot machines have a higher hit frequency than progressive jackpot slots, for example, so you'll win more often.
See the list of best real money online slots to find out where to play flat-top machines. I recommend Slotland.
Back to Slots Terminology.