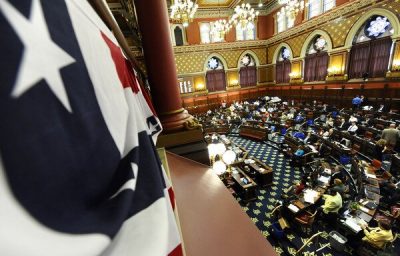 This week's casino news keeps us state-side as we take a look at breaking news from three different regions. We'll start in Connecticut where it looks like online gambling has been cleared to launch.
Connecticut House Votes In Favor Of Online Gambling Bill
It seems like online gambling in the state of Connecticut is now a go. The House was able to vote in favor of the new online gambling bill by a 122-21 margin. The bill they voted in favor for would allow the two recognized tribes and the state lottery to offer any type of sports betting. Both the Mohegan Tribe and the Mashantucket Pequot Tribe already own and run casinos in Connecticut but this bill would allow each of them to run online casino games like poker on top of that.
As of right now, the state lottery is hoping to make about 15 retail sportsbooks. Two are already locked into Hartford and Bridgeport, mostly because they are two of Connecticut's larger cities. The bill now moves further down the line of command, having to pass through the Senate before heading towards the desk of Governor Ned Lamont.
If it makes it all the way to Lamont, it is essentially a lock to pass. He has already signed an online gambling deal with both tribes in the state. Connecticut would then become the seventh state in the country to legalize online poker.
Sports Betting Bill Gets Signed By Maryland Governor
Sports betting took a massive step forward in the state of Maryland after Gov. Larry Hogan officially legalized it. It was also reported that the bill had an emergency clause attached to it, which would allow the Maryland casinos to instantly allow sports betting. This was able to come into motion after voters had passed the ballot initiative a few months ago to legalize sports betting.
There is expected to be as much as 60 online sportsbooks in the state on top of the few retail locations that should be heading to their casinos. In total there is about 30 retail licenses that will be given away in the coming weeks.
All sports betting companies do have to pay 15 percent tax on the revenue that they bring in. This is designed to help send money to Maryland's public education fund.
Casinos In New Jersey Win $352.2 Million In Revenue During April
Just a month removed from setting record breaking numbers in March, New Jersey casinos ended up winning $352.2 million during April. The year-over-year increase is astounding, as it was reported that the percentage was 326.4 when comparing April 2020 to April 2021. Internet gambling also saw a 34.8 increase in their revenue by reeling in $107.7 million.
Every single online gambling operator in the state of New Jersey was able to increase their revenue in April, with Borgata seeing the largest incline. They jumped up 106.8 percent with their $32.8 million in earnings.
These casinos in the state are expected to take an even larger jump during May, as these record-breaking numbers were set with reduced capacity. Gov. Phil Murphy announced that all casinos would be going back to max capacity in the middle of May, which should end up bringing their revenue numbers to another high. It was a long road back to this moment but New Jersey is finally starting to get things back to normal revenue wise.