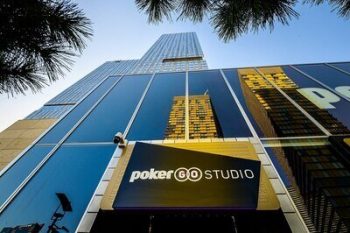 Could the Texas Dolly be making a return to the poker tables? That's one of the three key stories we're tracking this week in the news.
David Peters Picks Up Back-to-Back Wins At U.S. Poker Open
David Peters wasn't ready to give up his U.S. Poker Open champion title just yet.
The poker pro was able to win the USPO championship after picking up three titles and making it into four final tables during the 12-event high roller festival, which was held at the PokerGo Studio (pictured above) at the Aria Resort. For the big victory, Peters was awarded and extra $50,000 in prize money along with a Golden Eagle trophy.
Peters is no stranger to the U.S. Poker Open as he was the reigning champion of the event. He was able to pull out a win during the series back in 2019 and was planning to keep his crown in 2020 before the COVID-19 pandemic threw a wrench in that plan. The series was pushed to 2021 where Peters picked up right where he left off.
He's increased his career tournament earnings to a ridiculous $35.4 million. In regard to the poker all-time money list, Peters ranks sixth. It is safe to say that the two-time WSOP bracelet winner isn't planning on taking it down a notch anytime soon.
Sean Winter Emerges Victorious In U.S. Poker Open High Roller Event
The 12th and final event of the 2021 U.S. Poker Open series has officially come and gone with Sean Winter emerging victorious. The $50,000 buy-in no-limit hold'em high roller tournament ended up dragging in a total of 42 entries, which led to a final prize pool of $2,100,000. The biggest portion – a $756,000 prize – was dished out to Sean Winter.
This was his second USPO title throughout his young poker career as the only other title he was able to win was back in 2019 during the $10,000 short deck event.
Winter picked up 454 PokerGO Tour points alongside his prize money. Throughout the entire tour, Winter has racked up $1.7 million in earnings and has picked up two titles to drag him up into third place on that leaderboard.
Poker Legend Doyle Brunson Could Be Joining The World Series Of Poker
Even though the poker legend Doyle Brunson made his official retirement from all tournaments back in 2018, it appears he could be making his return. The 10-time WSOP bracelet winner has stated that he does plan to compete in Rio for the World Series of Poker tournament, although he only plans to play "a few select tournaments in the WSOP this year."
The 87-year-old legend hasn't competed since 2018 when he finished in sixth place in the $10,000 no-limit 2-7 single draw championship. Brunson, otherwise known as Texas Dolly, was able to claim $43,963 from the event and proved that he still has it.
Poker fans from all over the world should be ecstatic that they get to witness one of the greatest poker talents in history compete one more time. There have been efforts to reach out to Brunson in order to know which events he will be competing in, but he has yet to announce that information just yet.