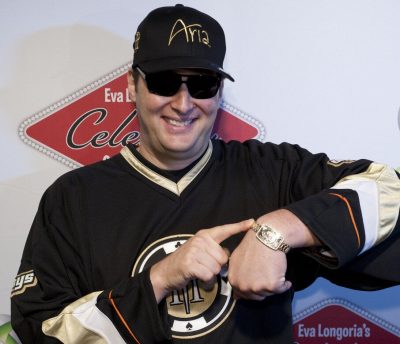 Another week, another win for Phil Hellmuth. At least, that's how it seems as the legend has won yet another head's up showdown. That's where we'll start with the weekly poker news.
Phil Hellmuth Takes Down Tom Dwan In Heads-Up Match
Phil Hellmuth is loving these heads-up matches as he just keeps on winning. The Poker Hall of Famer and 16-time World Series of Poker bracelet winner just defeated Tom Dwan in a High Stakes Duel. As a result, he took home a cool $400,000.
Hellmuth had a seven-match winning streak heading into the battle with Dwan. Dwan stole the first round which broke that streak, but Hellmuth came back and won the whole event in the end. Hellmuth started his incredible heads-up streak by winning all three matches against Antonio Esfandiari. Then he won three more against Daniel Negreanu, then grabbed a win over Nick Wright, the sports commentator.
The most recent match against Dwan had reportedly gone on for three hours. The two players swapped leads throughout the entire series but Hellmuth came away with the big victory. Dwan already announced that he would rematch Hellmuth, increasing the pot to $800,000.
Alexander Yen Wins World Poker Tour Lucky Hearts Main Event
Alexander Yen is happier and richer after trying his luck in the 2022 World Poker Tour Lucky Hearts Poker Open $3,500 buy-in no-limit hold'em main event. There were 1,982 other entries in the way but he earned the win the biggest share of the $6.3 million prize pool.
This was Yen's first-ever major tournament title of his career as he previously was marked down as the runner-up in two different Mid-States Poker Tour events in 2014 and then 2015.
With the victory, Yen got to bring in a whopping $975,240 and his first-ever title for his placement. He also secured an additional 1,620 Card Player Player of the Year points. Nobody has been given that many points in a single event up until this point in 2022 either. He is already in first place in the current POY standings.
Caesars Changes Location Of World Series Of Poker
The World Series of Poker is changing up its location in Las Vegas. It has been announced that Caesars Entertainment wanted to swap the venue for the World Series of Poker in 2022 and that it is going back to the Horseshoe brand. Bally's Las Vegas casino is rebranding and everything should be completed at some point in 2022. There is supposedly a brand-new casino floor, renovated exterior and even more entertainment options coming.
The Regional President of Caesars Entertainment said that he is happy about bringing the Horseshoe brand back to life in order to celebrate the history of the World Series of Poker along with what is to come in the future.
The World Series of Poker has been getting rumored to be moved from the Rio casino for years now after Caesars sold the property in 2019. This is finally the year that we are going to see this change happen. The 53rd WSOP in history has a set start date of May 31st. It's scheduled to run until July 19th.