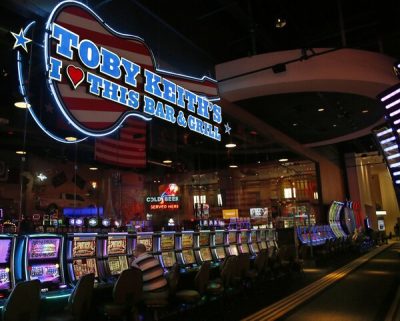 This week's casino news is focused on the states of Oklahoma and Illinois. Both have unique stories that we've been tracking, so let's cover the latest headlines.
Nine Casinos In Oklahoma Shut Down To Conserve Power
With a massive snowstorm furiously making its way into Texas and Oklahoma, people in the area have been maxing out their heating systems. That has caused the power supply in those states to be strained. The two states have since closed down nine different casinos – including the Hard Rock Casino in Tulsa until Wednesday. If weather conditions aren't able to improve by that point, that date could be pushed back a little further.
The Southwest Power Pool made the announcement that they were running a little lower than usual this past week. This group also happens to provide power to Arkansas, New Mexico, North Dakota, Minnesota, Wyoming, Iowa, Nebraska, Louisiana, Kansas, Montana and Missouri.
Hopefully everybody in the area is able to stay safe and make it through this horrifying storm.
Over $1 Billion Gambled On Sports In Illinois
The state of Illinois seems to be generating a lot of revenue from sports wagering since it's inception. The latest numbers show over $1 billion has been bet on sports. However, residents of the state are not able to put their money on colleges in the area.
Rep. Michael Zalewski hopes to get rid of that restriction, calling the blockage "an odd idiosyncrasy in the law." He also went on to state how easy it is to get around that law by traveling to a place such as Indiana or Iowa to place their bets. So far, he has gotten a few other representatives on his side but will need a lot more if any of these ideas were to go through.
There should be a hearing on the bill sometime in the future with each side representing their concerns over it. The main reason it's block is concerns of bribery/match fixing.
Online Casinos Could Be Coming To Illinois
Sticking around in Illinois, State Rep. Bob Rita has recently presented the Internet Gaming Act, which would allow online slot machines, poker and a few table games to be played online in the state. Similar to how the state set up their sports betting, you would have to register in person before going online, that registration would last six months before you have to do so again. This bill appeared shortly after sports betting reeled in a ton of revenue, generating $12.3 million during the month of December.
The Internet Gaming Act could be passed for the sole reason of the state struggling to pick up extra tax revenue. After their Fair Tax bill failed to pass at the November election, they seem to be looking to pick up extra revenue in any way that they can.
However, there are multiple groups that oppose this new bill with the Illinois Licensed Beverage Association and the VGT Operators just to name a few. Of course, they'd rather players come into land-based casinos to place their bets as otherwise, they'll lose business.