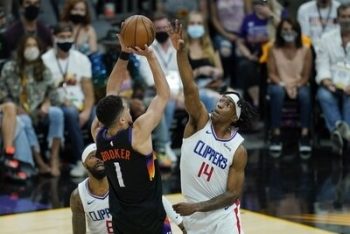 With a few exhilarating Game 7 matchups out of the way, the Conference Finals are officially here. Surprisingly, all of the four teams remaining in the postseason haven't won a championship since the NBA merger, so the winds of change are blowing. There's no LeBron James, Steph Curry, Kevin Durant or many of the other big names that are regularly in contention, so this will be a breath of fresh air. Let's take a closer look at the two series.
Los Angeles Clippers vs. Phoenix Suns
Odds To Win Series: Clippers +315, Suns -385
The Los Angeles Clippers found a way to escape the Utah Jazz in the second round, winning in six games. They were able to win their last two without their superstar Kawhi Leonard as he suffered a knee injury. Meanwhile, the Phoenix Suns were able to sweep the Denver Nuggets and have had tons of time to rest, which came in handy as they beat the Clippers in Game 1. The only issue for Phoenix is they are still without Chris Paul, who tested positive for COVID-19 a few days ago and is set to miss some time.
The Clippers will desperately need the scoring and leadership of Paul George throughout the series. With Leonard likely out a few games at least, George will be tasked with the majority of the offensive workload. The same can be said about Phoenix, who will rest more pressure on the shoulders of Devin Booker and Paul's replacement, Cameron Payne. This series is ultimately going to come down to the role players of either side and if someone like Terrence Mann or Payne shine, their team is likely to advance.
Atlanta Hawks vs. Milwaukee Bucks
Odds To Win Series: Hawks +360, Bucks -450
The Atlanta Hawks knocked off the Philadelphia 76ers in Game 7 on the road in order to make it to their first Eastern Conference Finals since 2015. The Hawks were able to completely stifle Philadelphia with stellar all-around play, led by their young star Trae Young. Their opponent knows a thing or two about Game 7's, though, as Milwaukee took the Brooklyn Nets the length of the series and were able to emerge victorious on the road too.
Atlanta is going to have to continue to play with that chip on their shoulder. Young and company have been going into every series with a villain mentality and it has paid dividends for them. This squad hasn't backed down to anybody, as their roster is filled with talent that covers both ends of the floor. They are bound to give Milwaukee fits offensively.
The Bucks should be in good position defensively but their offense may be an issue. It hasn't hurt them yet this postseason but the Hawks have a tremendous rim protector in Clint Capela. Capela could end up walling off the paint and forcing Giannis Antetokounmpo to kick the ball out and force their role players to beat them. If the Bucks are able to space the floor behind Khris Middleton and Jrue Holiday, the Hawks are going to have a very tough time defending them. Atlanta is once again the underdog in this series, but they seem to be on a mission right now and are determined to keep this series close until the very end.