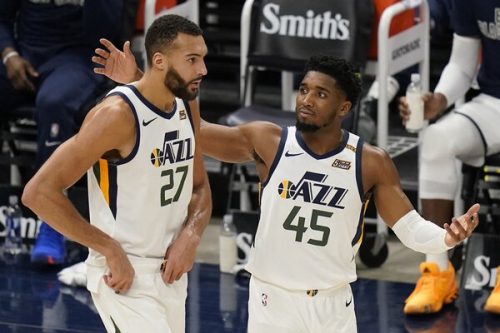 We are a little over the quarter mark for the 2021 NBA season and while much of the talk is focused on the (potentially cancelled) All-Star Game, bettors are eyeing futures. Now that we have a good view of which teams are
The Favorites
The Utah Jazz (+1400) have been one of the surprise teams as they lead the Western Conference. They are now among the favorites for the NBA Championship due to their fantastic team play and defense. They have won 19 of their last 21 games and have covered the spread in 18 of their last 20. It also looks like they have two solid All-Stars on their roster in Donovan Mitchell and Rudy Gobert.
Right behind them in the standings are the Los Angeles Lakers (+250) but they're the favorite to win it all. This doesn't serve as a surprise for many people as they won the championship last season and are returning with a slightly better roster before. Normally, any team that features LeBron James is a threat to take home the trophy any year, but now that he has a great supporting cast and a superstar partner in Anthony Davis, Dennis Schroder and Montrezl Harrell. They have a proven track record in the playoffs; the Jazz do not.
The Brooklyn Nets (+400) don't have the best record in the league and don't have a history of success, but they should still be listed among the favorites behind their superstar trio of Kevin Durant, James Harden and Kyrie Irving. Their only issue right now is on the defensive end but they could easily make a few small deals at the deadline to sort that out.
The Longshots
The Philadelphia 76ers (+1200) should be considered longshots for the trophy this year because their playoff history is one of a team that constantly disappoints. They currently have the best record in the Eastern Conference who knows what they'll deliver later? Joel Embiid has played at an MVP level but Ben Simmons has been inconsistent.
The Milwaukee Bucks (+700) also have their playoff failures haunting them but they still have one of the best players in the league in Giannis Antetokounmpo and two great partners in Khris Middleton and Jrue Holiday. They have been among the top teams the past two seasons but have been knocked from the playoffs earlier than expected each time. Will this year be different?
If you're looking for one intriguing longshot, could the Phoenix Suns (+4000) be worth the risk? Phoenix picked up Chris Paul during the offseason and it has been working wonders so far as they sit at 17-9 on the year. Paul has played like an All-Star this year and has been bringing out the best in some of the other players on the team like Mikal Bridges and Devin Booker. This team has a lot of young talent but can they put it all together in one year? They're still very short on playoff experience, so that's why their odds are so long.