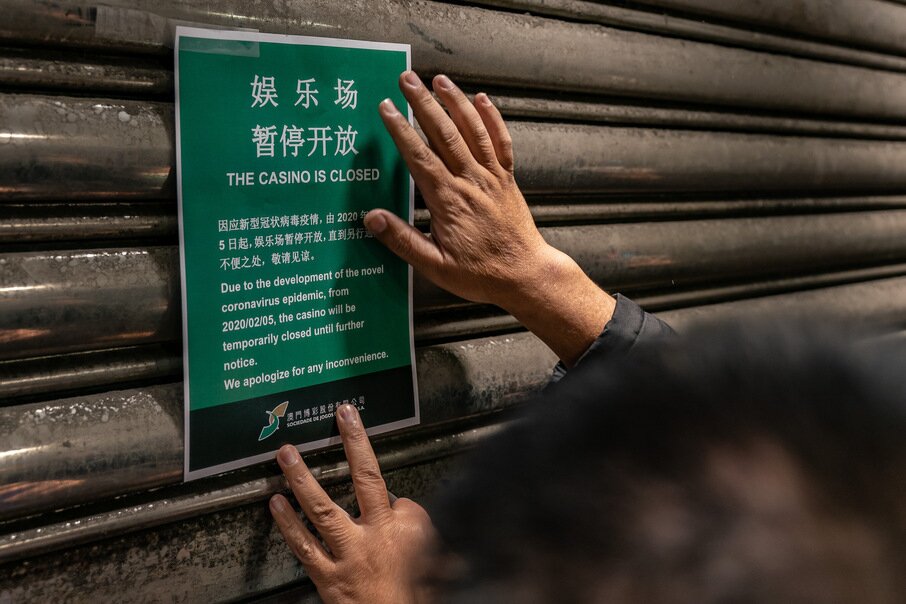 The Coronavirus has become a massive story worldwide as various countries try to contain the outbreak. It's had a huge impact in Macau, China already as the casinos are now planning to close for a couple of weeks. We'll start there in our weekly recap of the casino news.
Macau Closes Casinos Due To Coronavirus Outbreak
The spread of the Coronavirus has been quick and it's now hit Macau, China's gambling province. With over 900 deaths worldwide and the virus spreading to other areas of China and other countries altogether, there has been a really big effort to quarantine it. That's led to travel bans, lock downs and now Macau will shut down casinos for two weeks.
Truth be told, Macau should have responded much sooner but it took the World Healthy Organization to declare it an emergency before they responded. The concern is that Macau is a popular place to go during the Chinese Lunar Year and many people who were infected possibly went to the casinos in Macau and spread the virus around. Of course, it's not known for sure but speculation has grown that that's the case.
At any rate, the world's leading gambling destination has been hit hard as they already saw an 11.3% decrease in January. Expect February to be much worse unless the virus is contained soon.
Nelly Gets Into With A Mohegan Sun Poker Pit Boss
Rapper Nelly isn't exactly known for drama but this past week, he was busted getting into a little dust-up with a pit box at the Mohegan Sun in Connecticut.
According to a video released by TMZ, Nelly was minding his own business at an Ultimate Texas Hold'em table when another gambler insulted him, telling him to "get under my nuts". The rapper did the right thing by getting the supervisors to take action instead of taking action himself. However, the pit boss said he never heard the player making the comment, so Nelly went off on the pit boss.
In the end, neither police nor security was needed as the incident de-escalated quickly. This isn't Nelly's first foray into poker as you might recall that he was one of the entrants in the 2007 World Series of Poker main event.
Daily Fantasy Ruled Illegal In New York
In a ruling that's going to impact casino businesses and players across the state, Daily Fantasy has now been ruled illegal in the state of New York. On Thursday, the state's appellate court upheld a lower court's ruling that deemed that these contests are not considered a game of skill and are therefore illegal gambling in the state.
What's interesting is that five DFS providers were shielded from gaming laws back in 2016 in return for giving millions to the state. However, now the courts have ruled that DFS is like online gaming or casino action. In other words, the DFS operators will now have to take their case further up the courts – if they can – or move out of New York.