Note: Party Poker now accepts players from New Jersey.
Rise to Fame
Party Poker started its operations in 2001 by sharing its software with a group of other online poker rooms, thus creating a network where player pools of all the sites in the network were combined.
Party Poker had several advantages over rooms on other networks:
Superior software at the time.
World Poker Tour and World Series of Poker sponsorships.
A popular affiliate program for webmasters.
It quickly became the most popular online poker room in the world and saw no need to keep other poker rooms on the same network anymore (other rooms would now have more to gain from that relationship).
In 2005, Party Gaming Plc. listed into London Stock Exchange with a valuation of £4.64 billion (soon after the value of PartyGaming Plc. reached ten billion pounds.)
The company was riding high on top of the online poker world; they had established a well-known brand with a top-quality software and a marketing budget that they were not afraid to use. Then things turned for the worse.
The UIGEA
In 2006, the Unlawful Internet Gambling Enforcement Act (UIGEA) was rushed through the congress alongside a sure-pass SAFE Port Act.
It was the night before the Bush administration would take control.
Nobody in the Senate-House Conference Committee had time to read the final language of the bill, according to Sen. Frank R Lautenberg.
And Party Poker panicked.
The Party Poker USA exit came before the bill was even signed into law which is weird because bills aren't laws; they could have just as well waited until UIGEA was signed into law – which usually takes a few weeks at the minimum – until pulling the virtual plug on US players.
Millions Lost
Party Gaming Plc., the parent company of Party Poker, made around two-to-three million dollars a day back then. Even a week's worth of wait means $14-$21 million dollars extra. (Since President Bush signed the bill into law two weeks later, panicking cost Party Gaming tens of millions of dollars.)
Besides, UIGEA is an enforcement act, which means that you would have had to break some other federal, state or tribal law in order to make it a crime. So if Party Poker was operating illegally before the UIGEA, it would just add one more crime to the list. For the most of it, the damage would have already been done.
The Impact
The fact that the Party Poker US exit was rushed is even weirder when you think about the impact it had on the company – and yes, they knew it was going to have such an impact since USA customers accounted for about 77% of their revenue. Perhaps they even anticipated a bigger impact.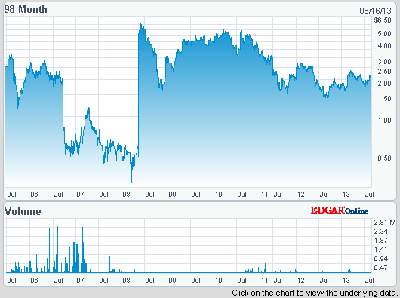 PartyGaming's stock had dropped 70% a week after their US exit (source).
Party Poker's US exit allowed PokerStars to take over as the biggest online poker room in the world and Full Tilt Poker to take the second place (both kept accepting US players until 2011 – now only a few legal US poker sites remain).
Party Poker and bwin
In October 2010, PartyGaming and bwin announced a merger in which PartyGaming owners got about 48.36% of the company and bwin owners the rest. Their combined revenue at the time was $885.6 million (source).
The announcement had a big impact on both companies' stock: Party's shares rose 20% and bwin's 18% (source).
Modern Party Poker
bwin.Party remains as a top-5 online poker room still in 2013, having lost ground to PokerStars, iPoker network, 888Poker and battling for fourth and fifth positions with PokerStars.it and Full Tilt Poker.
The brand and the website both have been revamped several times over but so far with mediocre success. In fact, the latest major Party Poker software update was a disaster as there were more bugs than players managed to keep up with.

It's funny how companies try to "re-invent" themselves by changing the brand image completely. I don't think anyone had a problem with the old Party Poker image – in fact, I would much rather play at the old Party Poker site than the new one. It's mind-boggling how you take a company with a successful image and reliable to software and try to regain power by changing what was successful into something else, only to fail miserably.
Those were the things they had going for them – other parts of their business needed fixing. But of course it's easy to say this afterwards.
Still, throughout the good and the bad, PartyPoker has kept its reputation for being a professional online poker room. Even when the US players were prohibited from playing, everyone received their money back with no problems. That's how you're supposed to handle an exit from US online poker market (sadly very few sites followed that example).
Re-Entering the US Market
In November 2011, the DOJ indirectly announced that the Wire Act of 1961 doesn't apply to online poker which meant two things:
States were now cleared to legalize online poker.
Online poker rooms could apply for licenses in those states.
bwin.Party was now free to re-enter the US market.
Since getting an online poker operator license in New Jersey requires an ownership of a live New Jersey casino, bwin.Party got together with Borgata casino and Party-Borgata network was the result. (Both run their own online poker rooms but operate on the same network.) Party Poker New Jersey was launched in 25th of November, 2013.
Since they launched, the software has had issues with geolocation — this has been a problem for many licensed US online poker sites. I assume this issue will be resolved relatively fast, though. They've also been critized for the highest rake in New Jersey ($0.01 for every $0.18, capped depending on the stakes) and long customer service waiting times.
Otherwise the USA Party Poker return has been a successful one.