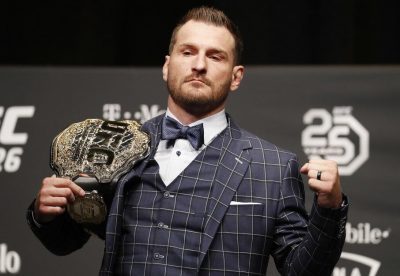 The UFC has been putting on great shows during the early portion of 2021 and will continue with UFC 260. The main fight here is the Stipe Miocic vs. Francis Ngannou fight with the heavyweight championship on the line, but there are a number of other fights that are bound to pique the interest of fans.
Stipe Miocic vs. Francis Ngannou
Bovada Odds: Ngannou -135
Stipe Miocic is currently the heavyweight champion and arguably the best of all time. He's putting his title on the line in this fight against Francis Ngannou, one of the best knockout artists that the UFC has ever seen. Surprisingly, Miocic is listed as the underdog right now despite defeating Ngannou back in 2018 and despite being the champ.
Ever since that win, Miocic has won three straight fights and improved his record to 20-3 with a UFC-record four heavyweight title defenses. Meanwhile, Ngannou followed up his loss against Miocic back in 2018 with another loss against Derrick Lewis, but has since won four straight with all being knockouts.
Miocic is the more balanced fighter as he can take this to the ground but Ngannou can end everything with one shot. He has 15 wins and all 15 were stoppages.
Sean O'Malley vs. Thomas Almeida
Bodog Odds: O'Malley -310
Sean O'Malley was 12-0 and on the rise before suffering his first loss in his career against Marlon Vera last year . O'Malley has won the majority of his fights through knockout (with eight) and he's been an exciting fighter to watch. He has excellent striking and grappling ability which will make him a difficult opponent for anybody in his weight class.
O'Malley's opponent happens to be on a losing streak, as Thomas Almeida has dropped each of his last three fights. This is surprising due to the fact that he was 21-0 in his career this 1-4 stretch in his last five. Alemida hasn't gotten a win since 2016, so that's a big reason why he's a dog here. It feels like this is a bit of a stepping stone matchup for O'Malley where he'll be expected to win.
Tyron Woodley vs Vicente Luque
LeoVegas Odds: Luque -260
Tyron Woodley was the UFC's Welterweight champion not too long ago but it seems like he's lost his way. He found plenty of success outside of the Octagon – specifically, with TMZ – but lost his focus in the ring. He enters Saturday's matchup with Vicente Luque having lost three in a row. Granted, he did lose to some pretty decent fighters but he's got another one in front of him on Saturday.
Luque has won eight of his last nine bouts and is now ranked No. 10 in the division. He got some serious power in his hands, though, as 11 of his 19 wins are via knockout. We'll see if he can keep things standing because if he does, he should have the edge. Woodley will like his chances if the fight goes to the ground, though.