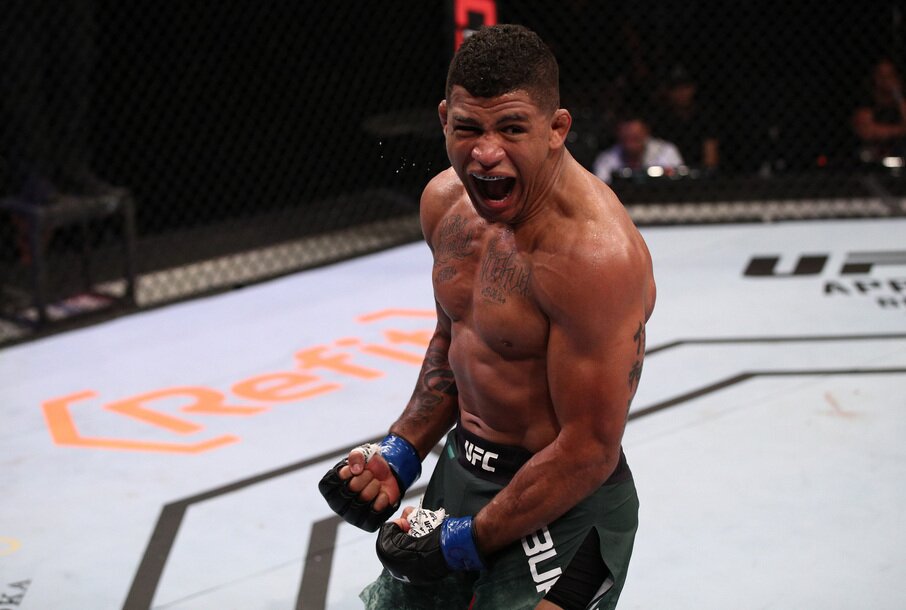 After a week off, the UFC is back with Saturday's UFC on ESPN 9 card where Welterweight Tyron Woodley and Gilbert Burns (pictured above) will headline the show. It also marks the mixed martial arts return to Las Vegas, Nevada, which has mostly been shutdown due to the COVID-19 pandemic.
Let's take a closer look at the key bouts on this card and examine the betting odds.
Gilbert Burns vs Tyron Woodley
Odds: Woodley -190, Burns +155
Woodley is the former Welterweight Division champ but he's been knocked down a peg after losing to Kamaru Usman at UFC 235. There's nothing to be ashamed about in that loss – especially by decision – but it's clear that Woodley has needed a lot of time off to recover. He hasn't fought since March of 2019 as he's focused on his work with TMZ and his rap career.
Woodley is still No. 1 in the UFC Welterweight rankings while Burns is No. 6. Burns enters the weekend having won five in a row – including a big first-round knockout over Demian Maia in March this year. Woodley seems to have an edge on him with striking power, defense and maybe even on the ground too. If this fight is fought standing, it's hard to see how Burns wins but on the ground, he should have a better shot.
Blagoy Ivanov vs Augusto Sakai
Odds: Ivanov -115, Sakai -115
The No. 12 (Ivanov) and No. 13 (Sakai) ranked heavyweight fighters will clash in what is expected to be a competitive fight. Sakai is a knockout artist as 11 of his 14 wins have come that way. He's won five in a row and each of those have come via knockout.
Meanwhile, is Ivanov is just 2-2 in his last four bouts but the losses were to solid competition. He went toe-to-toe with Derrick Lewis and lost via decision at UFC 244, so it appears he's got quite a chin. He also outlasted Tui Tuivasa an Ben Rothwell – two other fighters with good hands – to win his two fights prior. Of his 18 wins, six are by knockout, six are by submission and six are by decision, so he's a little more versatile than Sakai.
Mackenzie Dern vs Hannah Cifers
Odds: Dern -400, Cifers +300
A pair of competitors in the women's strawweight division will clash here as Mackenzie Dern takes on Hannah Cifers. While both fighters are still young (27), neither has made much of a mark in the UFC. Dern is 7-1 in her MMA career but is coming off a loss to Amanda Ribas, who is the No. 16 ranked strawweight. That's dropped Dern to No. 22 in the division. Meanwhile, Cifers is one run below her at No. 23. She's lost two of her four UFC fights so far, including a second-round loss to Angela Hill in January this year.
Both fighters need a good win to impress but it's Dern who is expected to make her mark. There really isn't much between these fighters, so there could be some value with the underdog in this one.