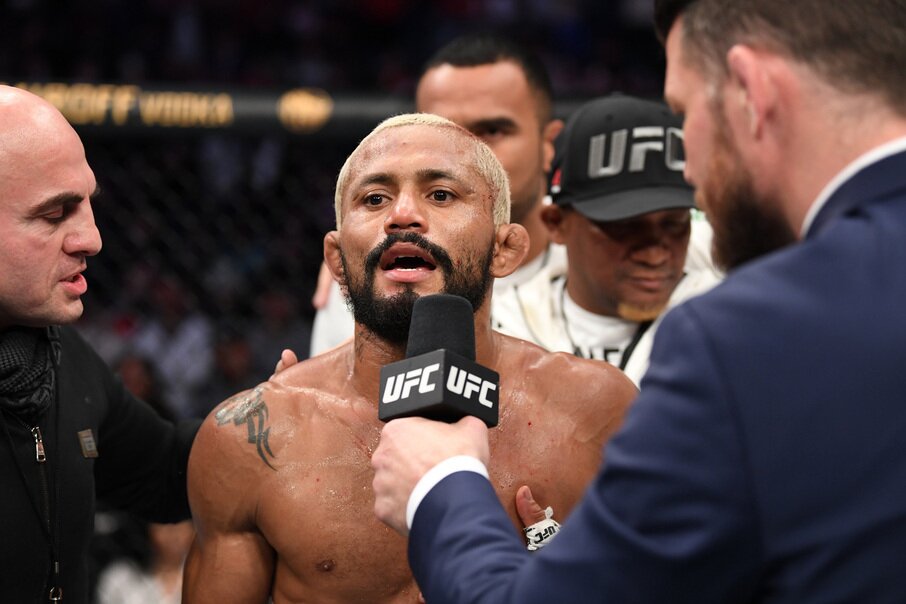 After an electrifying debut on Fight Island this past Saturday, the UFC is back with two cards this week. We'll have a pair of Fight Nights with one on Wednesday and one on Saturday. Let's take a closer look at the biggest bouts on each card and examine what we have to look forward to.
Wednesday
Calvin Kattar vs Dan Ige
Odds: Katter -325, Ige +250
Kattar is ranked No. 6 in the UFC featherweight rankings and is heavily favored to take care of business here. He is coming off a win over Jeremy Stephens at UFC 249 and has now won three of his last four bouts – all via knockout. His power has been impressive as he has 11 knockouts in his 21 wins.
Ige is ranked 10th in the division but appears to be a fighter on the rise. He is 14-2 in his MMA career and has won six straight fights. The last two – split decisions over Edson Barboza and Mirsad Bektic – were very close, though.
This will be a classic showdown between a power puncher (Kattar) and a grappler (Ige), so the fighter that can dictate their style of fight is more likely to win.
Tim Elliott vs Ryan Benoit
Odds: Elliott -125, Benoit -105
Flyweights will be front and center this week as Figueiredo and Benavidez clash on Saturday while Elliott and Benoit meet on Wednesday. While the former two are much higher up the rankings (No. 1 and No. 2), Elliott (No. 13) and Benoit (No. 15) are looking to make their move up the ladder.
Benoit has really struggled in the UFC. He was 7-2 before joining but is 3-4 since. He's alternated wins and losses every time and is coming off a loss, so maybe that's a good omen. Elliott is in worse shape these days, though. The 33-year-old has lost three fights in a row and five of his last seven.
Saturday
Deiveson Figueiredo vs Joseph Benavidez
Odds: Figueiredo -225, Benavidez +175
With the Flyweight championship belt vacant due to Henry Cejudo's retirement, the fight between Benavidez and Figueiredo will determine a new champ. This is actually the second time this fight is going down like this – with the belt on the line – as Figueiredo won in February and would have had the belt, but he missed weight.
Figueiredo won that fight with a second-round knockout, so many people are wondering what is going to change in the rematch? Figueiredo has impressive power for a Flyweight, winning nine of his 18 matches via knockout, which includes three of his last five wins.
Keep in mind that Figueiredo is the bigger guy and will not only have to go through the weight cut again. He's also battled COVID-19, although he's recovered.
Jack Hermansson vs Kelvin Gastelum
Odds: Gastelum -130, Hermansson +100
Things appear to have changed for Gastelum in 2017. In March that year, he picked up a knockout win over Vitor Belfort to improve to 14-2 but it was later deemed that a marijuana metabolite was in his system. That converted the win into a no contest. Since then, he has lost three of fight, although he's faced some really good competition in that span (Darren Till, Israel Adesanya and Chris Weidman).
On Saturday, he'll take on Jack Hermansson, who is 20-5 in his career but is coming off a loss to Jared Cannonier at UFC Fight Night 160. He had won four in a row before that.