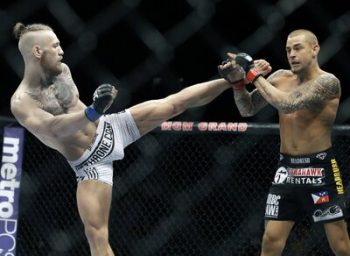 Has the star power of Conor McGregor lost a bit of its luster? In the past, a fight card with him at the top of the ticket would be major news. Nowadays, we're not sure if he is still a top dog in the sport and is mostly just distracted with other endeavors, or if he's past his prime. Either way, we'll find out this Saturday as he headlines UFC 264 in his trilogy with Dustin Poirier.
Dustin Poirier vs. Conor McGregor
UFC 264 Odds: Poirier -125
The trilogy between these two fighters will come to a head on Saturday. Dustin Poirier lost the first bout with Conor McGregor back in 2014 but more recently, picked up a knockout win over him at UFC 257. The real question is where are the fighters at in terms of their careers?
Poirier appears to be in his prime but in his first loss to McGregor, he wasn't. McGregor clearly was – or was at least entering his prime. Nowadays, it's hard to say if McGregor has faded and is maybe past his prime. He's just 3-3 in his last six while Poirier is 7-1 with a no contest in his last nine.
These two put on a fantastic show a few months ago and look to follow that up with another great one. The real question is what does McGregor have left in his left? A knockout win would rejuvenate his career.
Gilbert Burns vs. Stephen Thompson
UFC 264 Odds: Thompson -155
The battle between Gilbert Burns and Stephen Thomson represents two of the best in the welterweight division. This fight features two former title challengers. Burns suffered a tough KO loss against Kamaru Usman in his last fight and it was a brutal defeat.
Some had Burns winning on the scorecards when he lost focus. He was in tears after the loss. Meanwhile, Thompson picked up a unanimous decision victory over Geoff Neal in latest outing.
Burns enters with a 12-4 record in the UFC while Thompson holds a record of 11-4-1. Both of these guys like to fight standing up, so it will be interesting to see if one of them decides to take the fight to the ground or if they'll stand and bang.
Sean O'Malley vs. Kris Moutinho
UFC 264 Odds: O'Malley -900
This bantamweight bout actually kicks off the main card as Sean O'Malley puts his skills to the test against the tough Kris Moutinho. O'Malley currently has a record of 13-1-0, with nine knockouts and a submission while Moutinho is 9-4-0 himself.
O'Malley has turned into a fan favorite and must-see-TV during his time in the UFC. He has proved to be one of the most entertaining fighters and likely, a rising star. Moutinho has fought more recently than O'Malley, though, picking up a submission victory against Andrew Salas towards the end of May. O'Malley won his last fight, which was a knockout win over Thomas Almeida on March 27th.
One of the reasons why O'Malley is such a huge favorite is that Moutinho has yet to compete in an official UFC fight, meaning this will be his first. The pressure, atmosphere and the opponent are why the oddsmakers aren't expecting a win.