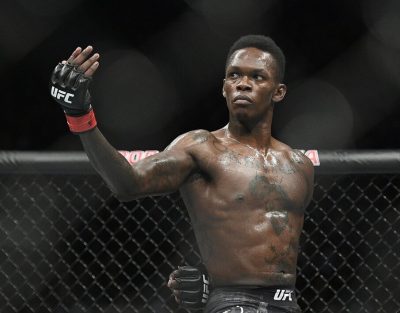 After a thrilling UFC Fight Night on Saturday when Jairzinho Rozenstruik knocked out his opponent right at the buzzer, the focus now shifts to UFC 263 this weekend. This event will take place on June 12th over at the Gila River Arena, located in Glendale, Arizona. There are a couple of championship belts on the line, so let's take a closer look at some of the main bouts on the card.
Israel Adesanya vs. Marvin Vettori
Israel Adesanya is back and he's the star of the show. But taking a look at the lines, he's a modest -250 favorite, so it looks like his opponent has a chance to claim the Middleweight Championship. While many consider him as one of the best middleweight fighters of all time, his most recent loss to Jan Blachowicz back in the light heavyweight division shows he has some vulnerabilities.
Marvin Vettori may not have Adesanya's talent but he fights with a chip on his shoulder. His striking ability has vastly improved as of late and could end up helping him out with Adesanya's fantastic timing by getting a few shots in of his own. However, Vettori is far more comfortable on the ground than Adesanya and could give himself a huge edge if he is able to consistently take him down.
We saw how Adesanya couldn't handle life on the ground with Blachowicz. But was that due to his size advantage? We'll find out.
Deiveson Figueiredo vs. Brandon Moreno
These two faced off back in December of 2018 and it was just as exciting as you would expect. Both fighters had a number of devastating blows but by the end of the fight, it turned into a majority draw.
Figueiredo has flown up the ranks ever since as he is talented in both the ground game and standing up. It seems like every time Figueiredo runs out of energy, he picks up a second wind and fights until the last second. That could end up being a problem for Brandon Moreno.
Moreno has displayed a stellar striking ability and potential that is currently off the charts. He should be able to stand a few rounds with the current champion of the Flyweight division but Figueiredo is the favorite for good reason.
Leon Edwards vs. Nate Diaz
Leon Edwards may not be the best in his class but he's close. The fact that he hasn't lost a fight since the year 2015 makes him a formidable opponent. He has gone 8-0 since his loss to Kamaru Usman and he's picked up wins over Rafael dos Anjos and Donald Cerrone since.
Edwards has always been a fantastic wrestler but he has since picked up other skills over the years. However, he is going to need to be on the top of his game when going up against Nate Diaz, who is making his return to the Octagon.
Diaz has been out of the UFC for over a year and — while he's 36 years old — his striking ability still makes him a threat in the ring. Diaz has the heart of a lion but this might be too tall of a task in his first fight back.