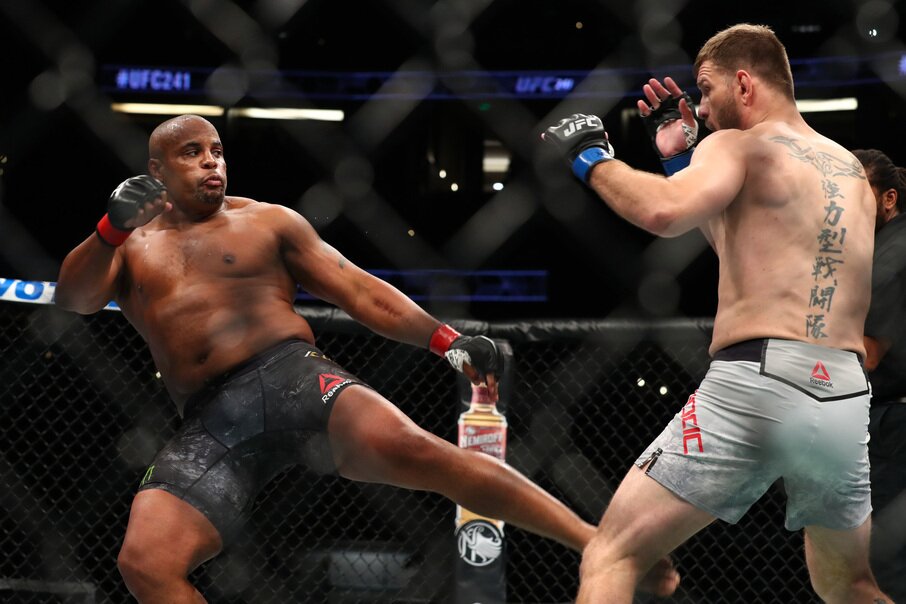 One of the most anticipated trilogies in UFC history is upon us as heavyweights Daniel Cormier and Stipe Miocic are set to settle their score. Cormier won the first meeting, knocking out Miocic and then seemed to have the upper hand at times in the rematch before Miocic turned the tide and knocked him out. Now both fighters are looking to cement their legacy at UFC 252.
Let's take a closer look at that bout as well as some of the other big fights on Saturday's card:
Daniel Cormier vs Stipe Miocic
Odds: Cormier -120, Miocic -110
Miocic was on a six-fight winning streak heading into the first meeting with DC before Cormier surprised him. Remember, Cormier was a Light Heavyweight moving up to Heavyweight, and Miocic thought he could bully him around. Cormier worked him in the clinch, whipped his legs and Miocic become a stagnant target. Eventually, he knocked him out. In the rematch, it looked like Cormier was in control through two rounds. However, Cormier started to fade and then in the fourth round, Miocic went to the body. He hammered away until Cormier opened up and then Miocic finished him off.
This will be Cormier's last fight and he better work on his cardio if he wants to make a good impression. He was winning the rematch until he started to fatigue. If he can maintain his high energy for five rounds, he should be able to walk away as a champ.
Junior Dos Santos vs Jairzinho Rozenstruik
Odds: Rozenstruik -160, Dos Santos +130
Another important heavyweight bout will feature Dos Santos going up against Rozenstruik. Dos Santos, the former heavyweight champ, has been a bit uneven of late. Since losing his belt to Miocic in 2017, he won three in a row but comes into this bout having lost two in a row. Of greater concern is how he's lost as he's been knocked out by Curtis Blaydes and Francis Ngannou. Rozenstruik has impeccable power as nine of his 10 career wins have been via knockout. He, too, is fresh off a knockout loss to Ngannou, so he's also looking for a rebound.
Both of these fighters have plenty of power in their hands, so it would be fairly surprising if this bout goes the distance. None of Rozestruik's last six bouts have gone the distance and same goes for Dos Santos over his last five.
Sean O'Malley vs Marlon Vera
Odds: O'Malley -335, Vera +255
O'Malley is one of the fast-rising stars in the UFC and it's not just because of the rainbow-colored hair. He's a perfect 12-0 in his MMA career and is now the No. 14 ranked fighter in the UFC bantamweight rankings. He's a heavy favorite over Marlon Vera, who had previously been on the rise before losing to Song Yadong in May. Vera had won five in a row before that.
O'Malley has been busy in 2020 as this will be his third fight of the year. He finished off his first two opponents with first-round knockouts, so we'll see if he can do the same with Vera on Saturday.