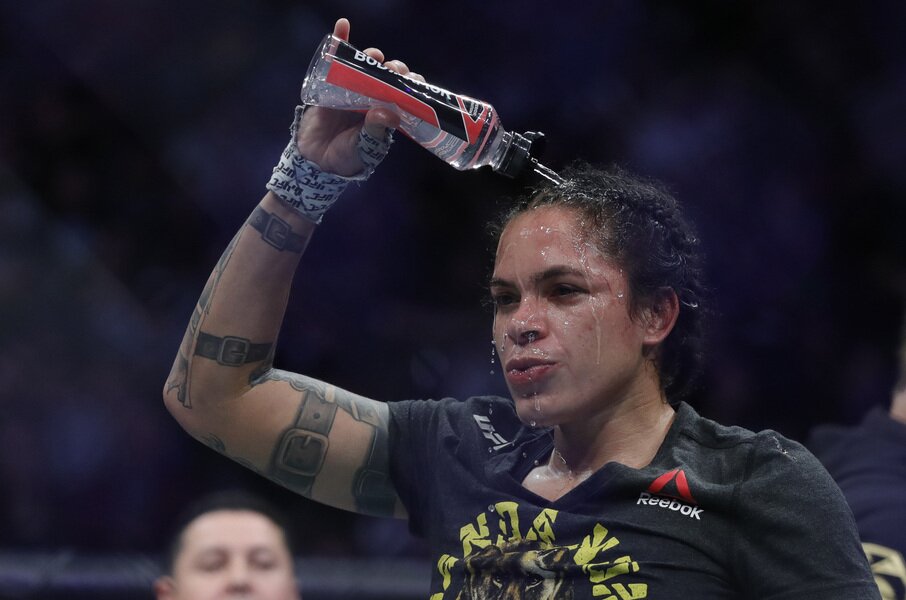 While most sports are still on their hiatus, the UFC has not slowed and will now have events every weekend in June. The excitement starts on Saturday with UFC 250 where Amanda Nunes and Felicia Spencer will headline the card. That gives sports bettors a chance to wager on world class MMA fights. 
Let's take a closer look at that bout and the other key fights on the main card:
Amanda Nunes vs Felicia Spencer
UFC 250 Odds: Nunes -650, Spence +425
Amanda Nunes (pictured above) is the current featherweight and bantamweight champions and is not expected to be slowed here by Spence. Nunes is No. 1 women's pound-for-pound fighter while Spencer is further down the list. Spencer is 8-1 in her MMA career but she is just 1-1 in her last two fights with a loss to Cris Cyborg. Spencer did tear her way through Invicta before joining UFC, so that's where a lot of the hype around her career comes from.
As for Nunes, she hasn't lost since September of 2014. She's beat the best of the best en route to her titles, including wins over Cyborg, Valentina Shevchenko, Ronda Rousey, Holly Holm and Germaine de Randamie.  
Raphael Assuncao vs Cody Garbrandt
UFC 250 Odds: Garbrandt -155, Assuncao +125
Two bantamweight fighters in desperate need of a win will square off in this one as Garbrandt, ranked No. 9 in his division, will go up against Assuncao, who is No. 5 in the rankings.
Garbrandt has had a really rough go of things in the last couple of years. He started his MMA career 11-0 and won the UFC Bantamweight Championship with a win over Dominic Cruz. Since then, though, he's lost twice to T.J. Dillashaw and then lost to Pedro Munhoz – all via knockout. His last two fights were first-round knockouts, so he's really been rattled. The good news is he's still just 28.
Meanwhile, Assuncao is 37 and also comes in on a losing streak. He's lost two in a row to Cory Sandhagen and Marlon Moraes. One was a first-round submission and one was a decision, so he should be more clear-headed going into this but his age could be a factor.
Aljamain Sterling vs Cory Sandhagen
UFC 250 Odds: Sterling -125, Sandhagen -105
Speaking of Sandhagen, he's a small dog in a bout versus Sterling. This will be another important bantamweight bout but these two fighters are higher up the rankings as Sterling is No. 4 and Sandhagen is No. 4. The winner could get a shot at the belt vacated by Henry Cejudo.
Sterling has won four in a row and six of seven, while Sandhagen has won seven in a row.
Neil Magny vs Anthony Rocco Martin
UFC 250 Odds: Magny -155, Rocco Martin +125
Two fighters looking to make some waves in the welterweight division will clash here. Magny has won seven of his last 10 bouts and is now 22-7 in his career. Martin has won five of six and is now 17-5 overall.
The key to this fight could be Magny's reach advantage, which is seven inches longer than Martin. He's also the more powerful striker, so Martin will have to overcome that if he's to pull out the upset win.