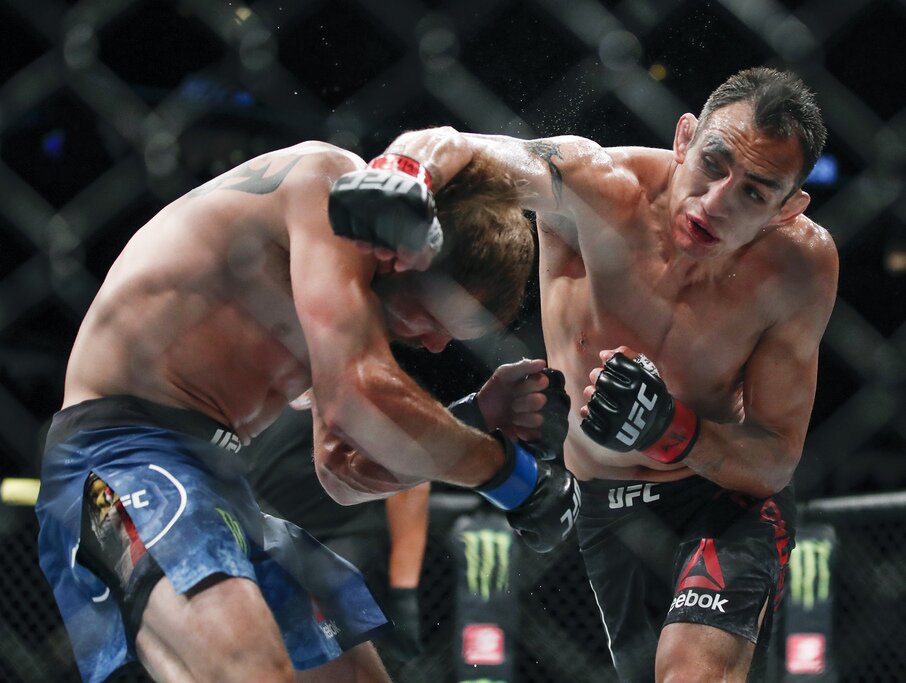 The on-again, off-again saga of UFC 249 has finally come to an end. On Saturday, May 9th, UFC 249 is scheduled to go off without a hitch. While fans were hoping to see Tony Ferguson finally take on Khabib Nurmagomedov, we'll have to wait a little longer for that bout. For now, Ferguson will headline UFC 249 with a challenging matchup against Justin Gaethje.
Tony Ferguson vs Justin Gaethje
Odds: Ferguson -180
The fight everyone actually wanted to see was Ferguson-Khabib Nurmagomedov but with Khabib stuck in Russia, Gaethje has stepped in. Ferguson enters this fight riding the longest winning streak in UFC lightweight history. Gaethje is clearly a step down in competition from Nurmagomedov but he's still dangerous. He's won three in a row after suffering his first two MMA losses (back-to-back).
One interesting note here is Ferguson hasn't lost since Michael Johnson beat him. Gaethje knocked out Johnson when they squared off at The Ultimate Fighter: Redemption Finale in July of 2017.
Henry Cejudo vs Dominick Cruz
Odds: Cejudo -230
Cruz is stepping back in the Octagon after a three-year layoff, which is a big reason why we see him as a sizable dog here at +180. Injuries have really sapped him since but keep in mind that the former Bantamweight champ is still 22-2 for his career. Meanwhile, Cejudo suffered a pair of losses in 2016 but has since won five in a row. He's moved into all-time great territory as he's currently just one of four UFC fighters ever to hold belts simultaneously from two different weight classes.
Cruz has a size advantage here and had he been younger and not dealing with a slew of reoccurring injuries, he'd be a live dog. As it stands now, It seems like Cejudo is the safer bet to win.
Francis Ngannou vs Jair Rozenstruik
Odds: Ngannou -280
Two mean heavyweights with serious knockout power will clash in this one. Collectively, 19 of the 27 fights they've been in have ended in knockouts, including nine of Rozenstruik's 10 fights.
Taking a look at the overall resumes, Ngannou has fought tougher competition but Rozenstruik is coming off a pair of credible wins over Andrei Arlovski and Alistair Overeem. Rozenstruik has a small edge in technique but Ngannou has the edge in power. Either way, it would be a surprise if this fight goes the distance.
Greg Hardy vs Yorgan De Castro
Odds: Hardy -200
Hardery, a former NFLer, will take another small step up in competition when he faces De Castro in this bout. However, this isn't a huge jump, so this should be another situation where he can continue to improve and pull out another win. De Castro is just six fights into his MMA career and is currently ranked as the 43rd best heavyweight overall by Tapology. Hardy is coming off a loss to Alexander Volkov but this looks like a spot where he can get back on track.
Jeremy Stephens vs Calvin Kattar
Odds: Kattar -250
Stephens is just one year older than Kattar but that's deceiving. Stephens has way more miles on his tires as he's fought 45 times while Kattar is only at 20. We'll see if that experience helps or hurts him in this spot. Overall, this should be a battle as both fighters are good at standing, banging and taking a lot of damage. That makes this a possible Fight of the Night contender.