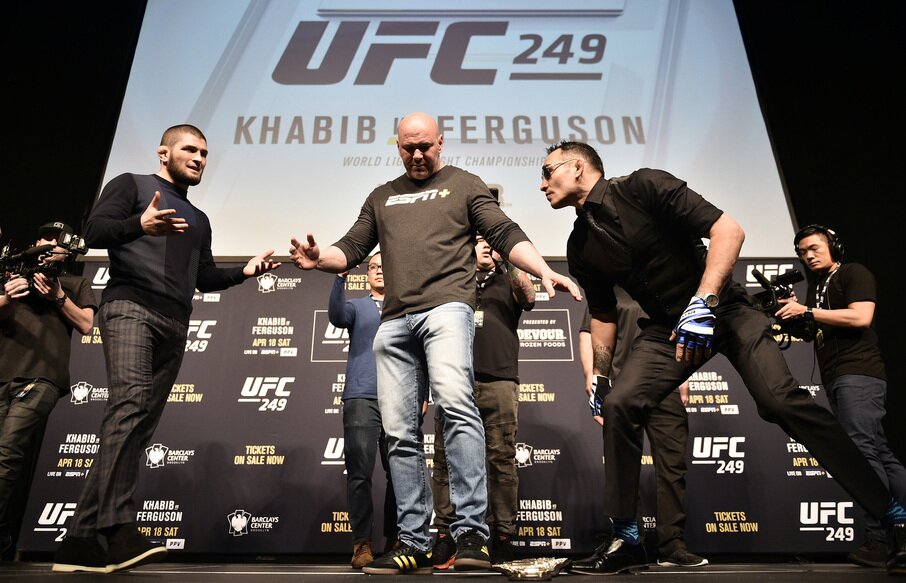 Although the coronavirus has wreaked havoc upon all sporting events, it looked like the UFC would be the last bastion. Unfortunately, with the President of the United States Donald Trump now announcing that he recommends against gatherings of 10 people or more, Dana White has announced that all UFC events are canceled up until UFC 249.
However, White has been emphatic that UFC 249 is going to happen one way or another.
The main storyline for UFC 249 will be the highly-anticipated bout between UFC Lightweight Champion Khabib Nurmagomedov and Tony Ferguson. This is now the fifth time that the UFC has scheduled this fight and is hoping that this goes off as expected. Let's take a closer look at that bout and two other key fights on the card.
Khabib Nurmagomedov vs Tony Ferguson
UFC 249 Odds: Nurmagomedov -300
Nurmagomedov has owned the Lightweight division of late and will enter his fight with Ferguson never having lost. He's carrying a 28-fight winning streak. Of course, the key to his success is taking Ferguson down. Not many people can stop Nurmagomedov's takedowns or his submissions.
Ferguson, though, is an excellent technical fighter and is not only the No. 1 contender in the Lightweight division, he's No. 10 in the overall pound-for-pound rankings. He also enters on a 12-fight winning streak
Ferguson has seemingly endless energy as he's clearly a brawler who loves to stand. However, Nurmagomedov gets everyone down to the ground at some point and then just takes over. Ferguson's best bet here is takedown defense because if he can't keep this standing, he probably won't win.
Rose Namajunas vs Jessica Andrade
UFC 249 Odds: Namajunas -170
Rose Namajunas and Jessica Andrade are set for their rematch from UFC 237. Namajunas had been the Women's Strawweight Champion at the time but then Andrade knocked her out in the second round and took the belt from her. Andrade has since lost the belt to Zhang Weili.
It's interesting to see Namajunas favored here as she actually talked about retiring following her loss to Andrade. However, some people feel that she was a bit lucky in the first match with Namajunas as she was losing the bout on the scorecards before landing a rare knockout. She lifted Namajunas and slammer her right on her head.
If things play out like the first time and Namajunas is more careful, she should have the edge.
Calvin Kattar vs Jeremy Stephens
UFC 249 Odds: Kattar -230
This will be a bout between two fighters who need a win to get back on track.
Calvin Kattar is favored here but he's actually dropped two of his last four fights. He's ranked No. 10 in the UFC featherweight rankings. As for veteran Jeremy Stephens, he's ranked No. 8 in the featherweight rankings but he has three losses and a no contest in his last four fights. He is a grinder who fights many of the best in the business but it's hard to ignore that he started his career 15-2 and is just 13-15-1 in his last 29 bouts. If he can pick up the win, it will be his first in over two years (since February of 2018).