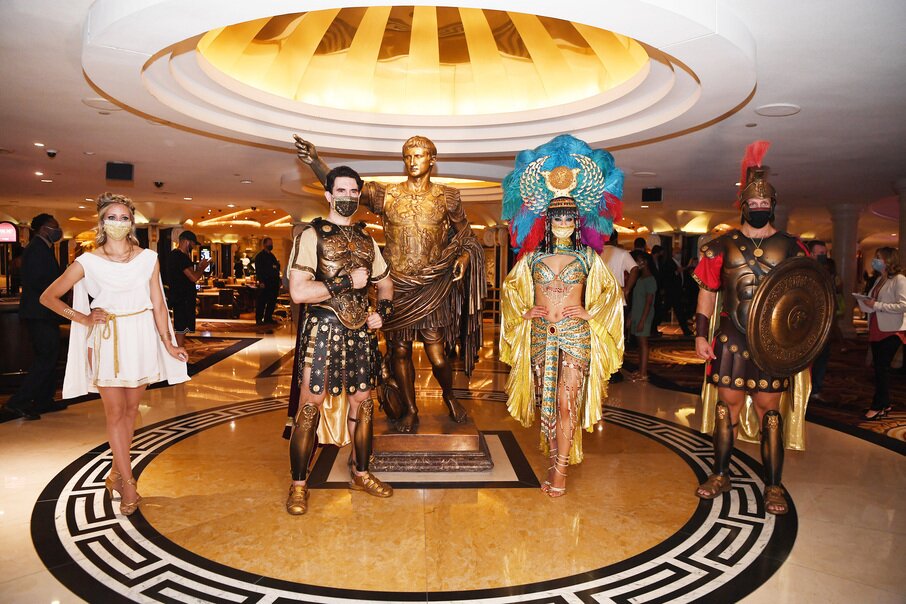 This week's poker news starts us off with a good headline about the Las Vegas casinos reopening. The one downside is the poker gaming, which is going to be limited for the time being. Famous Vegas casinos like MGM Grand, Bellagio, and Caesars Palace (pictured above) are open for business again.
Most offer lodging, dining options, and access to outdoor pools. Table games and slot machines are ready for business, though gaming stations operate within physical distancing guidelines. This means poker tables have limited capacity – with only 4 players per table. Some Las Vegas Strip poker rooms, such as those owned by MGM Resorts, have not begun gaming yet. 
Las Vegas Limits Poker Options During Casino Reopening
It was a beautiful site to see the Las Vegas Strip reopen. The Bellagio fountains were flowing, roulette was running and people were lining up to play. The one challenge with the reopening is poker, which is going to be face limited tables across The Strip and limits per table in the rooms that are open.
All poker rooms will only be allowed to have four players at a table, which will last until the social distancing restrictions begin to loosen. Other places such as the Wynn Resorts are planning to keep their poker rooms closed completely for the foreseeable future. Over at the Bellagio, Director of Poker Mike Williams stated that he will he reopen their poker room once they are allowed at least six people to a table. Until then, they plan to keep their poker rooms closed for the safety of their customers.
Cheating Charges Against Postle Dismissed
In a judgement that will make poker players around the world furious, Mike Postle has had his cheating charges dismissed. This decision puts an end to one of the largest scandals in poker history and with it, lays to rest the $30 million lawsuit.
Mike Postle began to draw attention to himself after winning over $250,000 in a seemingly incredible winning streak that saw him win in every session he had played in. He was playing small-pot tournaments and making decisions that most poker players deemed to be odd – from a strategic perspective. This went on for about a year before players began to air complaints that he was cheating.
Other players believed he was able to see his opponents' hole cards or that he had inside help from the casino, but at the end of the day, nobody knew exactly how he was doing it. A total of 14 complaints were dismissed by the judge and Kings Casino had six complaints for negligence, fraud, and unjust enrichment dismissed, as well.
There is still a chance to file an appeal to continue this fight and according to the plaintiff, there will no doubt be an appeal to continue this fight.
Bonomo Wins Third Super High Roller Bowl Title
For some people, winning even a single poker tournament is a miracle. For Justin Bonomo, he's quickly adding to his stacked collection. This past week, he won his third-ever Super High Roller Bowl, taking home $1,775,000 for the win.
Due to the coronavirus, the 2020 Super High Roller Bowl was being held online for the very first time ever. The event, which was hosted by partypoker, became a 28-event series with 27 preliminary poker events, which was followed by the no-limit hold'em main event. The event had more than 50 entries with each player having to pay $102,000 to buy-in. As a result, the prize pool ballooned to $15 million to be split up among the players who finish in the top seven.
Bonomo navigated the field of top poker players to take first place, but this was actually his third-ever Super High Roller Bowl title. He previously won the Super High Roller Bowl and Super High Roller Bowl China in 2018.
Rounding out the top three, Michael Addamo finished second and won $1,187,500 and David Peters placed second and won $762,500.