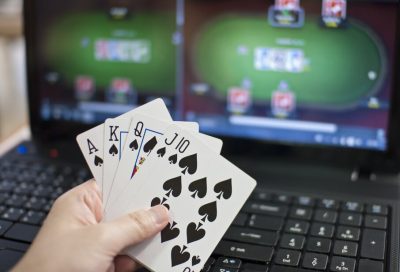 This week's poker news starts off with a peek at how the poker rooms might look in the post-coronavirus world. Let's begin there as we take our weekly tour of the biggest poker headlines.
Nevada Casinos Could Reopen With Four-Handed Poker
We've been trying to figure out how casinos will move forward once the coronavirus pandemic recedes and businesses begin to reopen. We know that casinos will look very different with plexiglass shields expected to separate the players form the dealers, and tons of ongoing sanitization of cards, chips and dice.
A report on Wednesday surfaced that Las Vegas poker rooms might switch to four-hand poker when the lockdown restrictions are lifted. If you're not quite familiar, this essentially refers to social distancing at poker tables.
The challenge is that with poker, most players opt for tables and tournaments that are stacked with competition. If the capacity is cut in half because of social distancing guidelines, that also means that prize pools would also be cut in half. At that point, it's going to turn a lot of people off.
The other issue is that online poker doesn't have to deal with any of these issues, so if players can't get what they're looking for in person, it will probably just push them more into playing online.
We'll see what happens but for now, poker – like many other aspects of the casino – will probably have to start off with smaller-than-usual crowd sizes.
Holz Joins GGpoker As Brand Ambassador
GGPoker has quietly been compiling a strong roster of poker ambassadors. The latest is Fedor Holz, who recently "retired" from playing poker full-time. Realistically, he never has to work ever again given how big some of his wins have been.
Holz made his first million in poker in 2015 but is now over the $32 million mark. He has picked up some big wins in the last couple of years, including the 2018 Big One for One Drop where he earned $6 million. He also won the High Roller for One Drop in 2016 when he collected just shy of $5 million.
This is a big scoop for GGpoker as Holz is not only one of the most successful players on the tour, he's also one of the biggest names. Now he'll help take the brand to new heights.
partypoker Super High Roller Bowl Scheduled For June 1st
The next partypoker Super High Roller Bowl is set for June 1st. Although many of these online poker events have been stand alones in the past, this one will be part of a series of high-stakes tournaments in the Poker Masters Online. That action gets underway on May 23rd but the climax will come on June 1st and 2nd.
The Super High Roller Bowl will be a $100,000 Main Event but there is a total of $20 million in guaranteed prize pools to be had across the other 28 events in the series (Poker Masters Online).
We've seen some massive winners come out of the Super High Roller Bowl with big paydays, including Brian Rast, who took him $7.525 million in Super High Roller Bowl I and Rainer Kempe, who took home a cool $5 million in Super High Roller Bowl II. Tune in (or join) on June 1st to see who wins it in 2020.