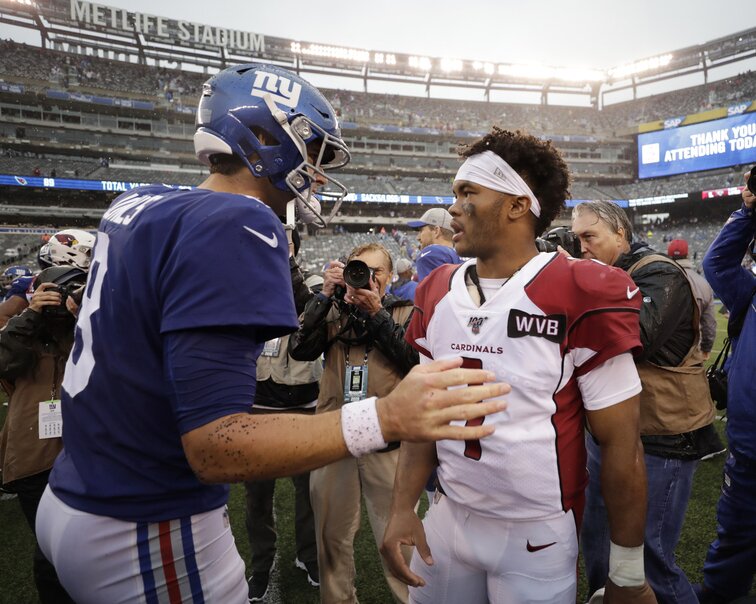 The Arizona Cardinals are coming off a really tough loss to the Los Angeles Rams last week. The defeat dropped them further down in the playoff picture while the New York Giants picked up a huge win over the Seattle Seahawks, placing them in first place in their division.
These two teams will now be facing off against one another and could end up being the game of week in Week 14. We will start there in our top five games of the week.
Arizona Cardinals @ New York Giants
Odds: Cardinals -2.5
Arizona is going to be looking for a bounce-back win in order to keep their playoff hopes alive. They will need much more production out of their offense than they have been able to get the last few weeks, dropping three games in a row. It is the complete opposite for the Giants as they have now won four straight games and have the NFC's second-longest winning streak. They are positioning themselves for a postseason berth despite having a 5-7 record on the season. Keep an eye on the status of quarterback Daniel Jones, who missed last week's game for the Giants.
Pittsburgh Steelers @ Buffalo Bills
Odds: Steelers -2
The Pittsburgh Steelers lost their first game of the season on Monday, falling to the Washington Football Team. Now they might be in danger of losing a second time in a row against a quality AFC opponent.
The Buffalo Bills won their Monday night affair rather easily, beating the San Francisco 49ers 34-24. We'll see if they can pull out a win here, which would inch them up the ladder in the AFC playoff picture.
Houston Texans @ Chicago Bears
Odds: Texans -1.5
The Houston Texans have been playing great football lately and should have won their last game against the Indianapolis Colts had they not muffed the snap at the goal line. The same can't be said about the Chicago Bears as they have lost their last six. With each of these teams not having enough talent to compete for a playoff spot, this can be a great game between two teams that are looking to prove something.
Baltimore Ravens @ Cleveland Browns
Odds: Ravens -1
The Baltimore Ravens absolutely crushed the Cleveland Browns in their first matchup earlier in the season but it should be a far different outcome this time around. Baltimore hasn't looked like their former selves at all this season and with their recent COVID-19 outbreak on their roster means they may be without some key pieces. Meanwhile, the Browns are firing on all cylinders and rattling off win after win. This should be a very intense division rivalry between two teams fighting for a postseason spot.
New Orleans Saints @ Philadelphia Eagles
Odds: Saints -7
The New Orleans Saints will be starting gadget quarterback Taysom Hill yet again this week as Drew Brees recovers from his rib injury. That hasn't been much of a hindrance, though, as they've won three straight. Meanwhile, the Philadelphia Eagles have yet to announce their starting quarterback after Carson Wentz was benched for rookie Jalen Hurts last week. Can the Eagles make a game of this?