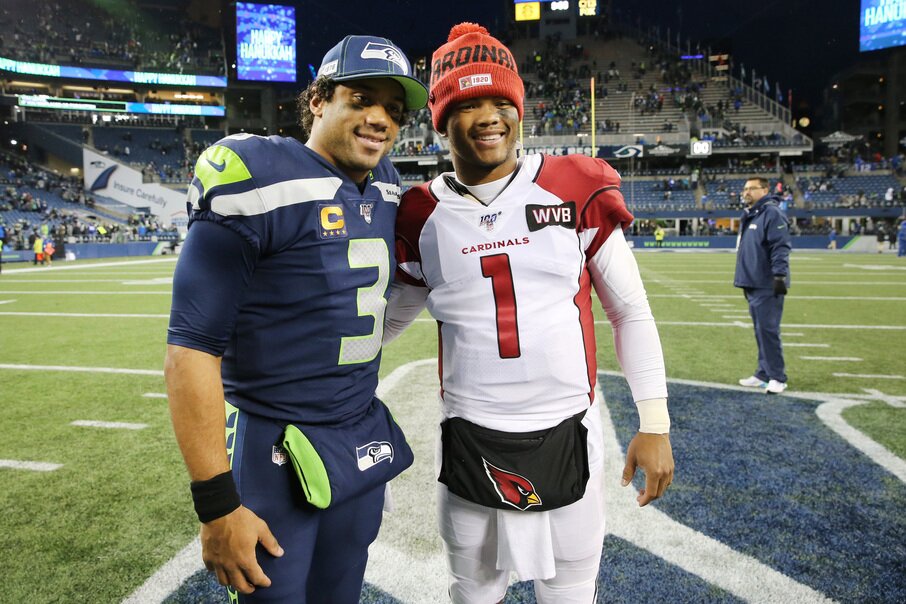 After taking down the Buffalo Bills, Kyler Murray continues to prove that he should be considered for the MVP award. Murray now faces off against a fellow MVP candidate in Russell Wilson as the Arizona Cardinals take on the Seattle Seahawks. They lead our list of the top five games of the week so let's start there:
Arizona Cardinals @ Seattle Seahawks
Odds: Seahawks -5.5
The Cardinals have been very inconsistent all season long but are now sitting at 6-3. Murray and DeAndre Hopkins have formed a formidable duo that has wreaked havoc on opposing defenses. Meanwhile, the Seahawks have struggled quite a bit lately, especially Wilson. Wilson has made multiple mental errors in recent weeks, throwing far too many interceptions and trying to force the ball through the air. He failed to throw a touchdown in a game for the first time all season last week. We'll see if he can rebound on Sunday.
Atlanta Falcons @ New Orleans Saints
Odds: Saints -7
The Atlanta Falcons are coming off of their bye week to face off against the New Orleans Saints. Atlanta has been slowly improving week to week after a horrific start to the season. They may finally get all their offensive weapons healthy again after Calvin Ridley, Julio Jones and Todd Gurley all had minor injuries the past few weeks. For New Orleans, they will be heading into this game without their future Hall of Fame quarterback Drew Brees as he recently went down with multiple rib fractures and a collapsed lung in his last game.
Tennessee Titans @ Baltimore Ravens
Odds: Ravens -6.5
Each of these teams have been completely underperforming as of late. The Titans are coming off of a 34-17 loss to the Indianapolis Colts while the Ravens were just upset by the New England Patriots 23-17. Tennessee started off the season 5-0 but are now sitting at 6-3 on the year. The Ravens have had a very tough time moving the ball offensively, which is the complete opposite of last season when they led the league in points per game.
Kansas City Chiefs @ Las Vegas Raiders
Odds: Chiefs -7
The rematch between these two teams is going to be one to watch. Not only is this a division rivalry but the Raiders have been the only team to defeat the Chiefs so far this season as well as being the only team to intercept Patrick Mahomes. The Chiefs will have had a full week to rest due to this being their bye week while the Raiders blew out the Denver Broncos 37-12 in a game where they intercepted Drew Lock four times.
Green Bay Packers @ Indianapolis Colts
Odds: Packers -2
The Green Bay Packers were nearly upset by the now 1-8 Jacksonville Jaguars in their last game, winning 24-20. They have to go up against a 6-3 Indianapolis Colts team that has played stellar defense all year long as they are the No. 1 ranked unit in the league. They'll need a better effort offensively as they've been sluggish on that side of the ball of late.