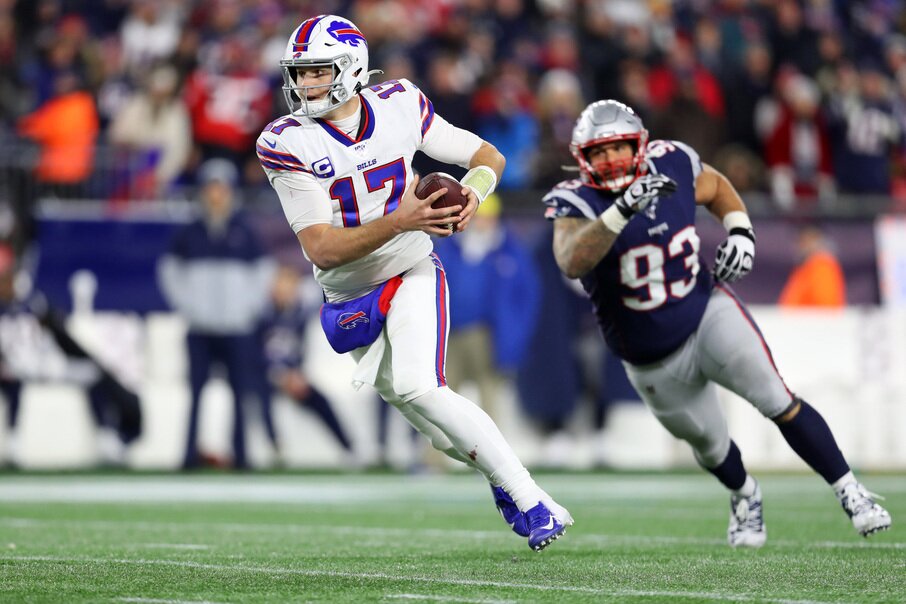 Many people figured the final two undefeated teams in the NFL would be the Kansas City Chiefs and Baltimore Ravens. As we enter Week 6, both have already lost while the Buffalo Bills, Pittsburgh Steelers, Green Bay Packers, Tennessee Titans and Seattle Seahawks remain perfect. Will any lose in Week 6? Let's take a closer look at the top games.
Kansas City Chiefs @ Buffalo Bills
Odds: Chiefs -3
The Chiefs weren't able to hold off the Las Vegas Raiders in their last contest as they dropped to 4-1 on the season. Their offense sputtered in the second half, totaling just 22 yards until their second-last drive of the game. Now they'll have a tough test this week against the Bills, which are a Top 10 defense. The Bills are currently 4-0 with their Week 5 game not being played yet but have looked like Super Bowl contenders each and every week. Josh Allen has been incredible, throwing for 12 touchdowns and just one interception so far while posting an 88.0 QBR.
Chicago Bears @ Carolina Panthers
Odds: Panthers -2.5
Surprisingly, this is a matchup of two winning teams as the Bears are 4-1 and the Panthers – who had a regular season win total of 5.5 – are 3-2.
The Bears have looked pretty good with Nick Foles as their starting quarterback. The team seems to rally around him and the offense has moved the ball a little bit better. They will have a tough test against an up and coming Panthers defense that was able to hold Matt Ryan and the Atlanta Falcons passing attack to just 226 total yards with no touchdowns and an interception.
Green Bay Packers @ Tampa Bay Buccaneers
Odds: Packers -1.5
Quarterback Aaron Rodgers is playing at an MVP-level, leading the NFL in QBR and he'll go up against Tom Brady in this contest. While the Packers offense is red-hot – even with all of the wide receiver injuries – the Bucs offense hasn't been consistent. They look like they still lack chemistry. They scored a season-low 19 points at Chicago last week.
Cleveland Browns @ Pittsburgh Steelers
Odds: Steelers -3.5
The Browns are off to their first 4-1 start since the year 1994 when Bill Belichick was their head coach. Their offense has looked better than it has been in the years prior and they lead the league in rushing. They should give this Top 10 Pittsburgh defense a run for their money.
Three teams in the AFC North already have four wins, so this game is important for playoff positioning – even though we're still early in the season.
Arizona Cardinals @ Dallas Cowboys
Odds: Cardinals -2.5
The Cardinals have been one of the most inconsistent teams in the league. After defeating the fully healthy San Francisco 49ers in Week 1 and the hapless Washington Football Team in Week 2, they lost to the Carolina Panthers and the Detroit Lions in Weeks 3 and 4. They got back on track in Week 5 with an easy win over the New York Jets.
Dallas is coming in off a win but with a big injury as franchise quarterback Dak Prescott had a gruesome ankle injury. He will miss the season. The Cowboys had Super Bowl aspirations but all of their injuries are taking a toll.