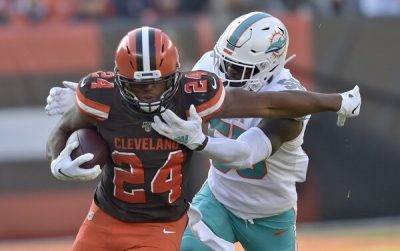 After the 2021 NFL draft, what changes have likely occurred in the balance of power in the NFL? Some teams helped themselves while other teams hurt themselves. Let's get an early sense of how the draft changed public perception in the NFL.
Cleveland Browns
Super Bowl Odds: +1600
The Browns are building an increasingly more athletic defense, and they are getting players with great value. Linebacker Jeremiah Owusu-Koramoah of Notre Dame surprisingly fell out of the top 50 picks in the draft. The Browns snapped him up and got a great additional depth piece for their linebacker group.
Cleveland has the tools it needs on offense. Getting better on defense was a priority for the organization in the draft, and it met that goal with an emphasis on defense. The Browns lost by a small margin in the AFC divisional round last season to the Kansas City Chiefs. By improving on defense, Cleveland increased the odds that it can make a run at the Super Bowl, possibly becoming a favorite to make the AFC Championship Game.
Miami Dolphins
Super Bowl Odds: +3300
The New York Jets got better in this draft, but the Jets were a 2-14 team last year and will be happy if they can be 7-9 or 8-8 in 2021. The Dolphins were 10-6 this past season. They have every reason to think they can make the Super Bowl this year, and their draft certainly improved their chances of making a run at the AFC title.
Jaylen Waddle is a former teammate of Tua Tagovailoa from Alabama. He and Tua should have great chemistry as a pitch-and-catch combination, but more than that, Waddle is simply insanely fast. He is a speed demon who will be a home-run threat. He will stretch the field and be a terror for opposing defenses. The Dolphins got a very good pick with him. Miami also got offensive line help, pass rushing help, and secondary help with other picks in the first few rounds. The Dolphins addressed a lot of team needs and have to feel great about where they are.
Minnesota Vikings
Super Bowl Odds: +5000
The Vikings are a team which hurt its position. Minnesota got an offensive lineman for Kirk Cousins but then passed on receivers who could have given the Vikings even more weapons. The pick of quarterback Kellen Mond on Day 2 of the draft feels like a completely wasted pick in a position where valuable players are regularly selected. The Vikings watched the Chicago Bears have a much better draft in the NFC North. They lost ground and have to figure out a way to make their roster come alive this fall. It won't be easy.
New Orleans Saints
Super Bowl Odds: +2800
The Saints got a quarterback, Ian Book, who does not have a great throwing arm. New Orleans has a quarterback who has good pocket presence but doesn't make elite throws and sometimes makes poor decisions outside the pocket. It is hard to understand what the Saints' plan is at quarterback after taking Book. Will Taysom Hill and Jameis Winston still compete for snaps? Will one of them go to another team? There doesn't seem to be a clear philosophy for coach Sean Payton, whose skills as a play designer will be sorely tested this season. The Saints seem ripe for regression in 2021.