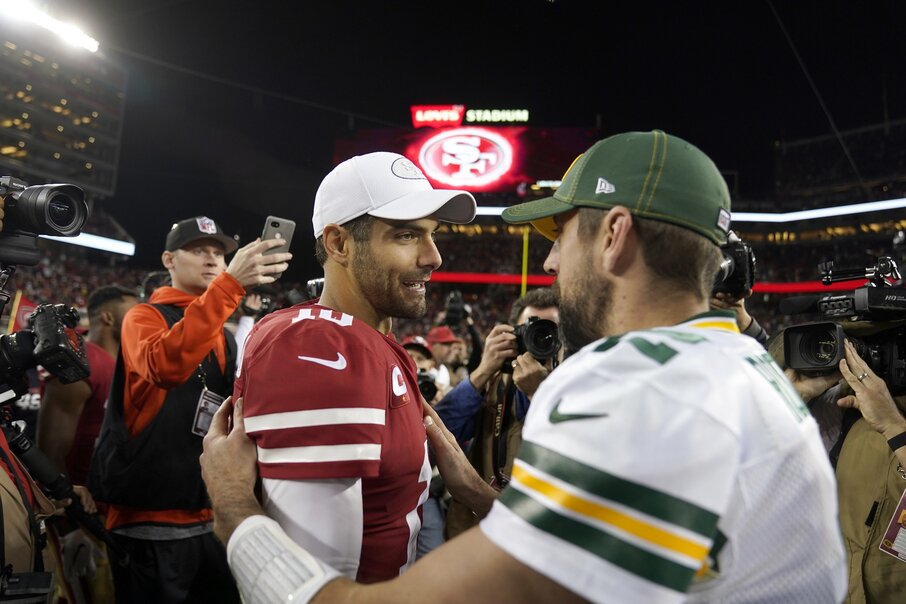 As if NFL Wild Card weekend wasn't wild enough, the Divisional Round delivered in a major way with some absolutely wild games. Now we're down to the final four with a pair of intriguing Championship Games that should give bettors interesting challenges. Both contests are rematches from regular season showdowns.
The Tennessee Titans beat the Kansas City Chiefs 35-32 in Week 11 but the Chiefs are a perfect 7-0 since. Meanwhile, the San Francisco 49ers blew out the Green Bay Packers 37-8 in Week 12 but the Packers are a perfect 6-0 since. Let's take a closer look at the AFC and NFC Championship Games this Sunday.
Tennessee Titans @ Kansas City Chiefs
Odds: Chiefs -7
The Titans have ended the seasons of both the New England Patriots and Baltimore Ravens in back-to-back weeks. Now four quarters away from the Super Bowl, Tennessee faces arguably its toughest test yet as they visit the Kansas City Chiefs. If the Titans are to win, it would mean that they have knocked off the four AFC Division winners in four straight weeks.
Running back Derrick Henry has rushed for nearly 300 yards and a touchdown in two postseason games and Tennessee will look to feed him the rock over and over again in order to effectively move the football and keep the ball out of the hands of Patrick Mahomes. Mahomes and company proved in their 51-31 comeback win over the Houston Texans that they can score points in bunches.
After falling behind 24-0 early in the second quarter, Kansas City somehow rallied to take a 28-24 lead before the half. They made a lot of mistakes to fall behind early and if they do the same against the Titans, who are great with time of possession and field a rugged defense, might not be as forgiving as the Texans.
Green Bay Packers @ San Francisco 49ers
Odds: 49ers -7
The 49ers earned the No. 1 seed and a first-round playoff bye with an impressive 13-3 record this season. San Francisco picked up where it left off in the Divisional Round with a 27-10 win over the Minnesota Vikings. Jimmy Garoppolo threw for 131 yards and a touchdown against Minnesota.
Meanwhile, the three-headed running back tandem of Tevin Coleman, Raheem Mostert and Matt Breida have combined for 180 rushing yards and two scores. The 49ers were probably rooting for the opportunity to host the Packers in the NFC Championship Game. After all, San Francisco recorded one its most lopsided victory of the season in a 37-8 win over Green Bay back in Week 12.
The 49ers defense sacked Aaron Rodgers five times, holding him to just 104 passing yards and one touchdown. If the Packers are going to have any chance at all in this one, they will need a monster performance from Rodgers and Davante Adams, who connected for eight catches, 160 yards and two touchdowns in last week's 28-23 win over the Seattle Seahawks.
Rodgers and Adams will certainly have a hard time duplicating those numbers in this rematch – especially with 49ers All-Pro cornerback Richard Sherman keeping an eye on Adams. After a 29-point drubbing between these teams less than two months ago, most bettors will bet the Niners to cover the 7-point spread this weekend. The Packers should put up a better effort in the NFL title game, but can they close a 29-point gap to win?