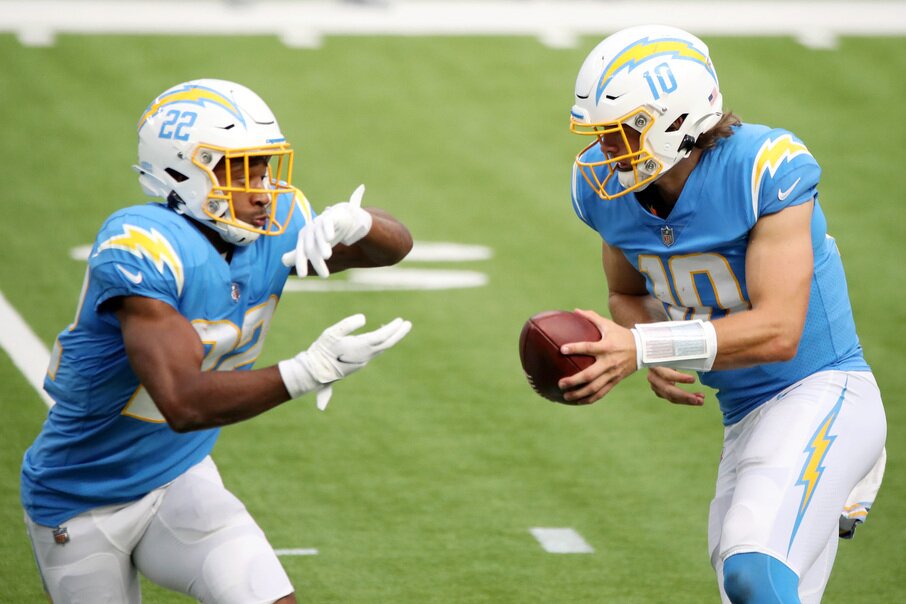 One of the biggest storylines in the NFL so far this season has been the MVP race. Both Russell Wilson of the Seattle Seahawks and Josh Allen of the Buffalo Bills have been in the conversation at times and now they'll face off this week. That's one of our key games to keep an eye on this week:
Seattle Seahawks @ Buffalo Bills
Odds: Seahawks -2.5
The Seahawks are sitting at 6-1 on the year and are coming off of a huge 37-27 win over the San Francisco 49ers. It was a game that saw MVP candidate Russell Wilson deliver four touchdowns without an interception to go along with his 261 passing yards. Most of that went to wide receiver D.K. Metcalf, who gathered 12 receptions for 161 yards and two touchdowns and is quickly becoming a force in this league.
Buffalo should have a field day on that 32nd ranked Seattle defense but the Bills offense has cooled off over the last four weeks. Josh Allen has just four touchdown passes and three interceptions in that span.
Las Vegas Raiders @ Los Angeles Chargers
Odds: Chargers -1.5
The Las Vegas Raiders were able to move up to 4-3 on the year in their 16-6 win over the Cleveland Browns but it wasn't their best game. Derek Carr only threw for 112 yards and one touchdown in the game, but it was there rushing attack that got them the victory here. Young star Josh Jacobs took 31 carries and totaled 128 yards on the ground. He will need to continue his stellar play this week against a very talented Los Angeles Chargers team.
The Chargers have had a ton of bad luck this season as they continue to be the Atlanta Falcons of the AFC: talented team, frequently competitive and holding leads, but frequently on the end of bad beats.
Chicago Bears @ Tennessee Titans
Odds: Titans -6
The Chicago Bears were finally able to put up decent offensive numbers in their last game against the New Orleans Saints but were unable to pull away with the victory, losing in overtime. Nick Foles put up 272 passing yards to go with two touchdowns and one interception.
The Bears will need more of the same this week. The good news is the Titans defense is dead-last in the NFL in third-down conversions allowed, so maybe the Bears can sustain some drives and score some points.
New Orleans Saints @ Tampa Bay Buccaneers
Odds: Buccaneers -4.5
The Saints are slowly getting better and better every week. They were able to get a huge win in Chicago in their last game without their best two receivers in Michael Thomas and Emmanuel Sanders.
However, both of those players should be back on the field this week. That's big as the Bucs will get Antonio Brown on the field.
Miami Dolphins @ Arizona Cardinals
Odds: Cardinals -4.5
A few weeks ago, this would have been labeled as a one-sided affair, but in recent weeks, each of these teams have played incredible football. The Dolphins have won their last three games, with their most recent game being against the Los Angeles Rams with rookie quarterback Tua Tagovailoa getting his first start.
Tagovailoa didn't have a great debut, only throwing for 93 yards and one touchdown, but it was their defense that harassed Jared Goff and the Rams offense. Can they do so again as they visit the desert? That'll be crucial if they want to extend their winning streak.