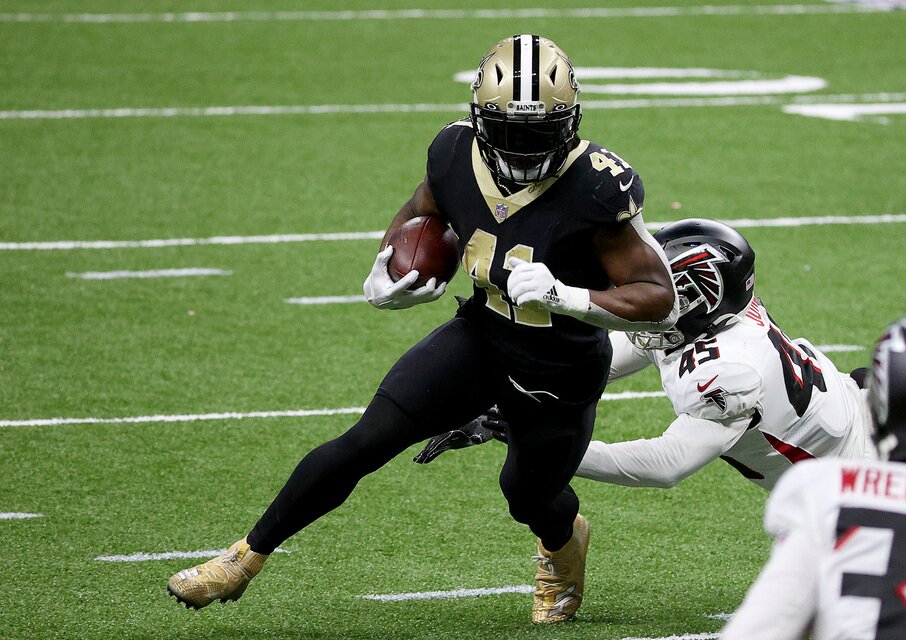 The New Orleans Saints are beginning to click on the defensive side of the ball after their yet another dominant performance. In fairness, this time it was against quarterback-less Denver Broncos. They now take a trip to Atlanta to face off against a Falcons team that they played two weeks ago who is coming off a dominant 43-6 victory over the Las Vegas Raiders. Let's start there as we examine the top five games of Week 13.
New Orleans Saints @ Atlanta Falcons
Odds: Saints -3
The Saints will be showcasing Taysom Hill yet again and he is currently 2-0 as the starter. He has shown some positive signs but hasn't been outstanding. The defense has been the talk of the town though, ranking No. 1 in the league in average yards allowed per game. They get a hot Falcons team that has won three out of their last four, although the one loss was to New Orleans and Hill.
Cleveland Browns @ Tennessee Titans
Odds: Titans -5.5
The Cleveland Browns continue to win games no matter the circumstances. They have not played well from start to finish in any of their last four to five games, but have just kept on winning by making plays when it mattered. Their most recent victory over the Jacksonville Jaguars wasn't pretty but they edged out the Jags 27-25 behind their dominant rushing attack. Their defense had a lot of trouble stopping James Robinson in that matchup, which may be disaster this week against the league leading rusher in Derrick Henry.
Los Angeles Rams @ Arizona Cardinals
Odds: Rams -3
The Los Angeles Rams are coming off a divisional loss to the San Francisco 49ers in their last game and are looking to bounce back in this division game against the Arizona Cardinals. Arizona didn't look very good in their last game either, blowing a 10-0 lead in New England only to lose 20-17. Their offense has produced just 38 points in total the last two weeks, so they need to find a way to get back on track.
New England Patriots @ Los Angeles Chargers
Odds: Pick 'Em
The Patriots got their huge win over the Cardinals last week but have had head-scratching losses behind terrible play from Cam Newton. Newton has had some great games this year and is looking for another one against Joey Bosa, Melvin Ingram and this Los Angeles Chargers defense. Newton had just 84 passing yards last week, though. On the other side, any game that Herbert plays in is going to be must watch football due to him transforming this offense into one of the best in the league.
Buffalo Bills @ San Francisco 49ers
Odds: Bills -2.5
The Buffalo Bills were one step ahead of the Chargers last week, winning 27-17 in a sloppy effort at home. They face off against another team that is coming off a huge win as the 49ers visit. The 49ers may be planning a last second playoff push after getting Raheem Mostert and Richard Sherman back from their injuries last week. Both gave the team a huge boost. We'll see if they can pull another surprise on the road this week.