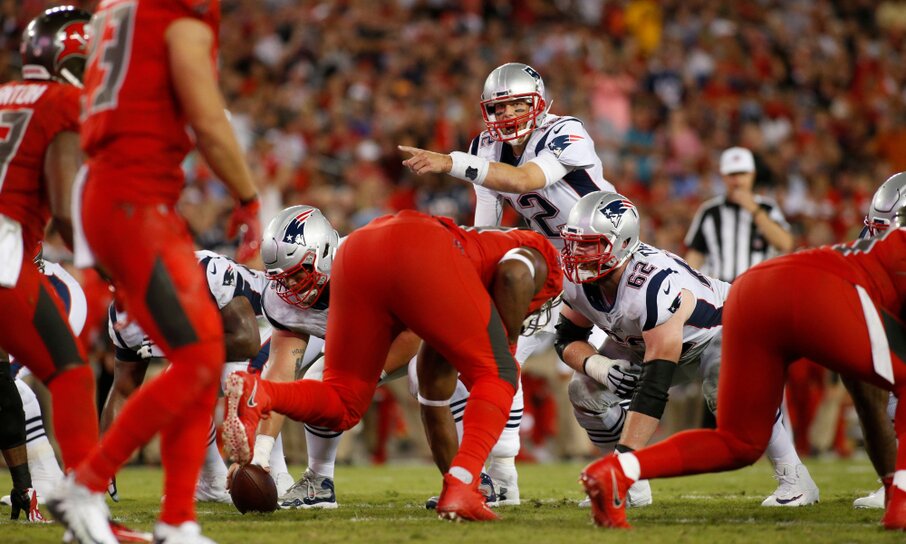 Free agency was a wild ride as we saw a number of big changes in the NFL landscape. From Tom Brady to DeAndre Hopkins to a slew of other big moves, a lot of star talent landed in new situations.
Now that the dust has settled, the Super Bowl odds have been refreshed. Some teams have seen their odds shorten while others are heading the other way. Let's take a closer look at the risers and fallers.
Risers
Tampa Bay Buccaneers
Super Bowl 55 Odds: +1200
There is a pretty large and obvious reason for the major change to the Tampa Bay Buccaneers Super Bowl odds: Tom Brady. After 20 seasons and six Super Bowl rings in Foxborough, Brady and Bill Belichick will finally be splitting up for the 2020 season.
Of course, Tampa's Super Bowl odds have shortened significantly. They had been as +6600 in the middle of January but have dropped to +1200 after signing Brady. They have plenty of weapons for Brady to work with and an early rumor is that they might be adding (or trying to add) Antonio Brown to the mix. Off-field issues aside, that could make for a lethal offense.
Buffalo Bills
Super Bowl 55 Odds: +2500
The Bills were +4000 as recently as the beginning of February but those have dropped to +2500 with addition of big-play threat Stefon Diggs. Diggs posted a career-high 1,130 receiving yards last year and was sixth in the NFL in yards per catch with 20.0.
But Diggs wasn't the only key addition to the team. The Bills defense, which ranked third in the NFL last season, also added cornerback Josh Norman along with defensive linemen Mario Addison, Quinton Jefferson and Vernon Butler.
Now that they don't have to worry about seeing Brady twice a year, their path to the playoffs – and the Super Bowl – has gotten a lot easier.
Fallers
New England Patriots
Super Bowl 55 Odds: +2000
The Patriots Super Bowl odds fallen since Brady's departure. New England's odds to win the Super Bowl started at +1200 back in January but are now at +2000. Part of the issue is that they haven't exactly replaced him. Currently, Jarrett Stidham is favored to be the team's starting quarterback in Week 1. With Bill Belichick and the great system he has built in Foxborough, Stidham might succeed in the long run but it's hard to make the case that the Patriots are a better team today than they were with Brady.
Chicago Bears
Super Bowl 55 Odds: +3500
Maybe the most perplexing team in terms of Super Bowl odds are the Chicago Bears. After quarterback Mitch Trubisky struggled mightily last season, they went out and traded for Nick Foles. Despite only being a year-removed from a Super Bowl Championship, the Foles trade apparently did not impress oddsmakers. The Bears Super Bowl futures actually ticked down to +3500.
Foles probably offers an upgrade over Trubisky, who lost confidence at times last season, but it seems like there are bigger problems in Chicago. Is the offensive line good enough? Is Matt Nagy the right head coach? Is the defense still as good as it was two seasons ago? If you think the answer to those questions is "yes", you might want to take a flier on them at 35/1.