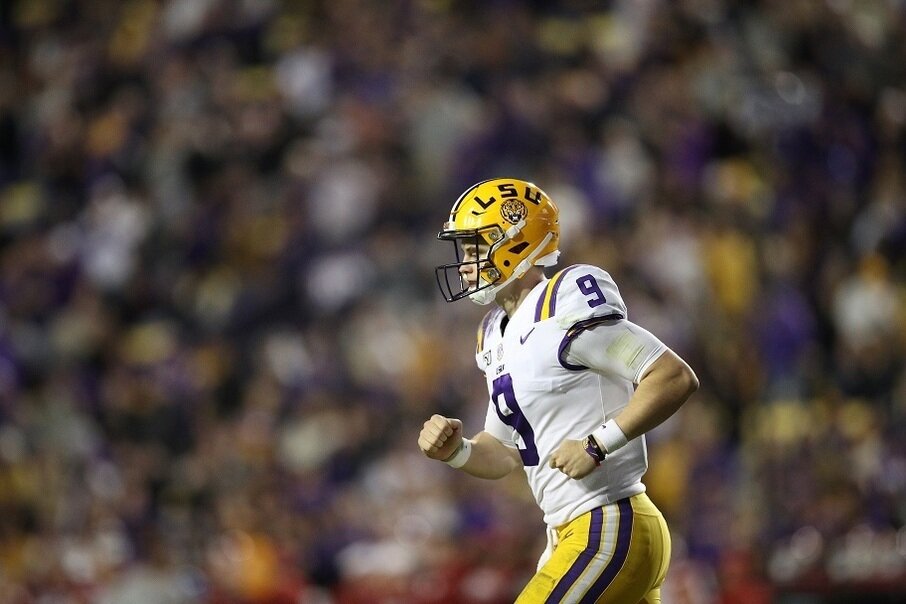 The 2020 NFL Draft is approaching as Round 1 will take place on Thursday, April 23rd. With most major sports on pause for now, the Draft has become one of the biggest sports betting events on the market right now.
Bovada has posted a huge array of NFL Draft props, so let's take a look at a few key highlights to give you a taste of what's available.
Who'll Be The Top Picks?
One of the ways you can bet on the draft is by predicting who'll go in which slot. LSU quarterback Joe Burrow is a massive -10000 favorite to go first overall while Ohio State's Chase Young is a -3000 to be taken second. While most mock drafts project those two to be the top two picks, you could be in for a big payday if you think something else happens.
Who'll Go Higher: Tua Tagovailoa Or Justin Herbert?
Although Burrow is the unquestioned top quarterback in the 2020 NFL Draft, how the quarterbacks are drafted behind him is up for grabs. Tua Tagovailoa and Justin Herbert are generally viewed as the second and third-best passers in the draft but Herbert is a -140 favorite over Tagovailoa, who is at EVEN money, to be drafted first in a head-to-head matchup. Justin Herbert is also a -1100 favorite to go ahead of Jordan Love (+575).
This is a classic pick of the accomplished quarterback over the classic quarterback. Justin Herbert looks like a traditional NFL passer, while Tua had a better college career while standing several inches shorter. Tua is the more accurate passer, which usually translates to consistency in the NFL.Yet his hip injury adds questions marks based on health.
With the isolation imposed by Covid-19, NFL teams might shy away from Tua because they cannot test his hip the way they might be able to most seasons. So Justin Herbert has risen higher than Tua in many mock drafts in recent weeks.  
Which Receiver Will Go First?
The 2020 NFL Draft is expected to be one of the deepest drafts ever in terms of wide receivers. While there are as many as 8-10 different wide receivers that could go in the first round, most mock drafts expect about six. Bovada has set the over-under at 5.5 with over being listed at -220 and under at +155.
CeeDeel Lamb is a -130 favorite to be drafted ahead of Jerry Jeudy and Lamb's over-under draft position is set at 12.5. Recent rumors have suggested that the Philadelphia Eagles are very interested in Lamb and would be willing to make a move up from No. 21 to draft him.
Will Swift Be The First Running Back Selected?
While there are some question marks if any running back will be taken in the first round, it does appear that Georgia's D'Andre Swift will be the first back off the board – whenever that happens.
He's a -165 favorite to be first while Wisconsin's 2000-yard runner Jonathan Taylor is second in line at +200. If you're think there could be a surprise, LSU's Clyde Edwards-Helaire is at +450 and Ohio State's J.K. Dobbins is offering value at +850.
Who Will Be The Washington Redskins Starting Quarterback Week 1?
In addition to regular draft props, there are some longer-term props like who'll be the Redskins starting quarterback in Week 1 of the 2020 season. Right now, Dwayne Haskins is a -200 favorite and Kyle Allen is at +150, but if you think that the Redskins do, in fact, draft Tua Tagovailoa No. 2 overall and plug him in as their Week 1 starter, you could be looking at a juicy +1800 payout.
Make sure you tune into the 2020 NFL Draft, which begins on Thursday, April 23rd at 8:00 PM ET.
NFL Network and ESPN each broadcast live as the picks happen. The 1st round takes place on Thursday night, while the 2nd and 3rd rounds happen on Friday night. On Saturday, the 4th through 7th rounds take place.