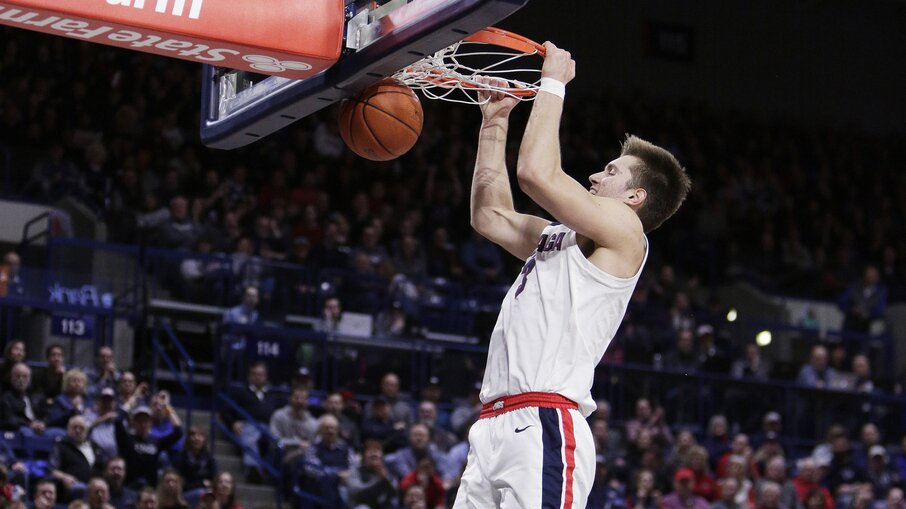 The 2019-2020 college basketball season is now just one month away from Selection Sunday. It's been an odd year with a number of teams playing musical chairs for the No. 1 seed but it seems like Baylor has settled into the top spot. Let's take a look at the top March Madness contenders and see which seeds they might end up with.
2020 NCAA Men's Basketball Touranment: The Favorites
The favorites for the NCAA Tournament this year aren't necessarily – or fully – embodied in the teams most likely to be No. 1 seeds. The No. 1 seeds this year are likely to be Baylor (+1000), Kansas (+1000), Gonzaga (+950), and San Diego State (+1200).
Gonzaga will be viewed as one of the top favorites, and Kansas will as well, because those are brand-name programs casual fans expect to be at the top of the list of March Madness betting favorites.
A lot of people won't trust Baylor or San Diego State, partly because those teams aren't as well-known in the country, and partly because they simply don't have pedigree. This isn't a Duke or Kansas that we're talking about, with years of NCAA Tournament success.
Odds for Gonzaga, San Diego State, Duke, and Louisville
Gonzaga is likely to get the No. 1 seed in the West Region and if that happens, San Diego State could get a No. 1 seed in the East Region. The top seed might seem like a prize, but San Diego State might want to be a No. 2 seed in the West with Gonzaga instead of traveling to New York for the Sweet 16.
San Diego State almost certainly would not have a partisan crowd in New York. Other teams in or near the Eastern time zone would have a lot more fans, and San Diego State could lose because of that factor.
Duke (+1000) could be a No. 2 seed, but the Blue Devils will probably be in the East or the South and will have plenty of fans at their games. Duke is a frontline national title contender, even though it has a lot less talent compared to last year with Zion Williamson and R.J. Barrett.
Louisville (+1000) will get a long look as a title contender. The Cardinals are in good position for a No. 2 seed. They won at Duke earlier this season. They will be hard to deal with. One other top-line contender is Auburn (+2800). The Tigers have just beaten Kentucky, Arkansas, and LSU in consecutive games. Auburn could be a dangerous No. 3 seed.
March Madness: 2020 Longshots
The teams which don't look like top contenders, but still have to be taken seriously, are in the 4-7 seed range. They aren't having the best regular seasons, but they could get hot if they figure it all out in March. Start with Michigan State (+2000).
Remember, they started the year as the sports betting favorite to win March Madness. The Spartans might fall to a No. 6 seed this year, but they have been known for making March runs to the Final Four as a mid-level seed under Tom Izzo.
West Virginia (+4000) could be a pesky No. 4 seed no one wants to play, with its tough defense and physical style. Kentucky (+2000) won't be viewed as a main contender. The Wildcats probably won't get more than a No. 4 seed. Yet, how many teams will want to face John Calipari in March? These are good examples of longshots which could make some noise.
Other longshots to think about in the 4 to 7 seed range: LSU (+8000), Oregon (+2800), Arizona (+4500), Houston (+10000), Iowa (+20000), Villanova (+4500) and Butler (+4000).