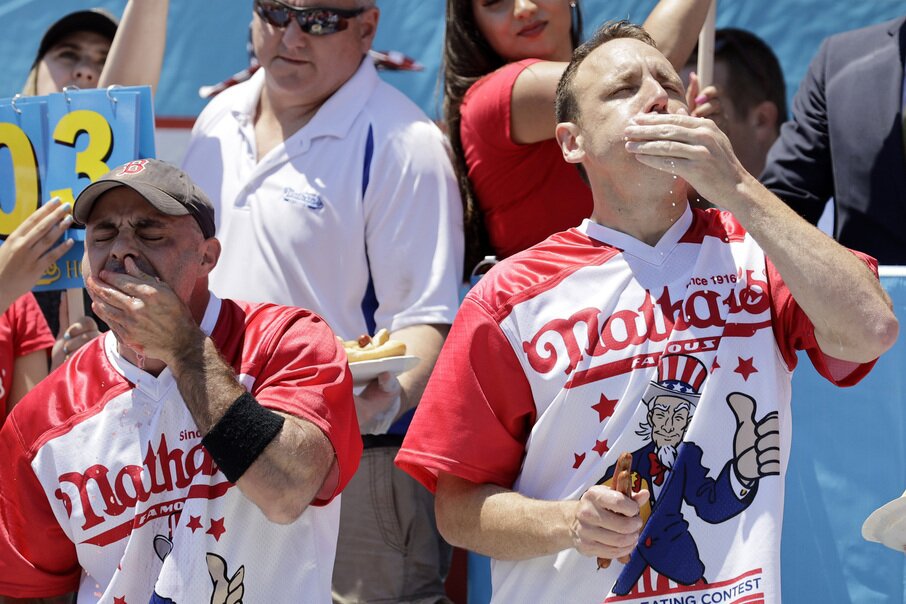 While many of the sporting events on the 2020 calendar have been moved around, the annual July 4th Nathan's Hot Dog Eating Contest is still on schedule. That means we're just days away from Saturday's big showdown.
Joey Chestnut has dominated this contest, winning in the mustard-colored belt in four straight years and 12 of the last 13. Will anyone be able to stop him in 2020 or is he going to cruise to another win?
Odds To Win Men's Championship
As you can tell by the betting odds here, Joey Chestnut is a massive favorite to win in 2020. Not only is he expected to win, the spread on him beating the second-place finisher is 15.5 hot dogs. In other words, it's not even expected to be close. Various props show that Chestnut is expected to eat over 9.5 hot dogs in the first minute alone. The over-under for the men's winner is set at 73.5, which is a huge number.
As mentioned, Chestnut has won 12 of the last 13 years with the lone surprise coming in 2015 when Matt Stonie ended Chestnut's eight-year winning streak. That year, Chestnut only managed to scarf down 60 hot dogs while Stonie reached 62. Chestnut has improved his numbers in subsequent years, though, as he ate 70 hot dogs in 2016, 72 in 2017, 74 in 2018 and 71 in 2019. Stonie fell off in 2016 as he was only able to down 53 the following year.
Chestnut owns the record for most hot dogs eaten during this contest and he's set and broken his own records many times. His 2009 record of 68 held until 2013 when he reached 69. He later broke that in 2016 by eating 70, broke it again in 2017 by eating 72 and then broke it one more time in 2018 by eating 74.
As a reminder, these contests come with a 10-minute time cap, so the contestants' total is the number of both hot dogs and buns eaten in the window.
Odds To Win Men's Championship
Sudo has become to the women's contest what Chestnut has been to the men: she's dominated. The 35-year-old American has won the women's competition in six straight years, although she's winning with much smaller numbers than Chestnut. She only needed to eat 31 last year to win and 37 in 2018. The record-holder on the women's side is Sonya Thomas, who ate 45 in 2012. Sudo's high watermark at this tournament is 41, which she posted in 2017.
The over-under for the winner on the women's side is set at 36.5 with the over at -150 and the under at +110. Sudo is up on the board at -6.5 over the Michelle Lesco, who is expected to be her top competition this year. We'll see if she can knock her off or if Sudo's reign will continue for one more year.