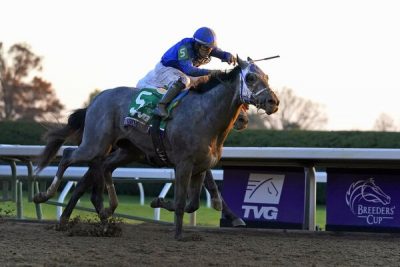 The first Saturday in May happens to be the first day of the month, which means the 2021 Kentucky Derby is coming up this weekend. A loaded field of horses will run at Churchill Downs, which will be at 50% capacity due to the COVID-19 pandemic. Now that we know the horses running, let's take a closer look at the favorites, the longshots and the betting lines.
Kentucky Derby Favorites
Essential Quality (+250) (pictured above) is the favorite and it's easy to see why. He won the Breeders Cup Juvenile last year and backed that up with a win at the Southwest Stakes in February and the Blue Grass Stakes in April. This three-year-old colt is trained by Brad H. Fox and is a perfect 5-0 in his career.
Rock Your World (+500) is another horse that has yet to lose as he's a perfect 3-0 in his career. The most recent victory is the one that opened a lot of eyes as the three-year-old colt picked up a big 4 ½-furlong win at the Santa Anita Stakes in April. John W. Sadler trains this horse and will try to guide him to a big win.
Known Agenda (+750) and Hot Rod Charlie (+800) are the only other horses inside of 10/1. Known Agenda has six races under his belt but he's only won three of them. However, the misses aren't all that bad as there's a fifth, a third and a second. That means he's finished in the money in five of his six outings. He has momentum right now, winning two in a row, including the Florida Derby in March.
As for Hot Rod Charlie, he has seven races on his resume and while the early results were shaky, the recent ones are better. He didn't have a win in any of his first three starts but has since finished in the money in four straight. He finished second in the Breeders' Cup Juvenile behind Essential Quality and is coming off a win at the Louisiana Derby in March.
Kentucky Derby Longshots
A lot of bettors are eyeing Medina Spirit (+1200) given that he's trained by Hall of Fame legend Bob Baffert. He seems to always have a horse that it's the running for a win at the Kentucky Derby and Medina Spirit could be it. This three-year-old colt has never finished worse than first or second in any of his five starts but lacks big wins. He's coming off back-to-back second-place finishes at the Santa Anita Derby (behind Rock Your World) and at the San Felipe Stakes (behind Life Is Good).
Midnight Bourbon (+1500) is another horse that is getting some love based on his trainer: Steve Asmussen. The Hall of Fame trainer has never won the Kentucky Derby but he's won pretty much everything else, including the Preakness Stakes, Belmont Stakes and the Breeders Cup. Is this the time that he finally breaks through?  Midnight Bourbon has never finished worse than third in any of his seven starts.