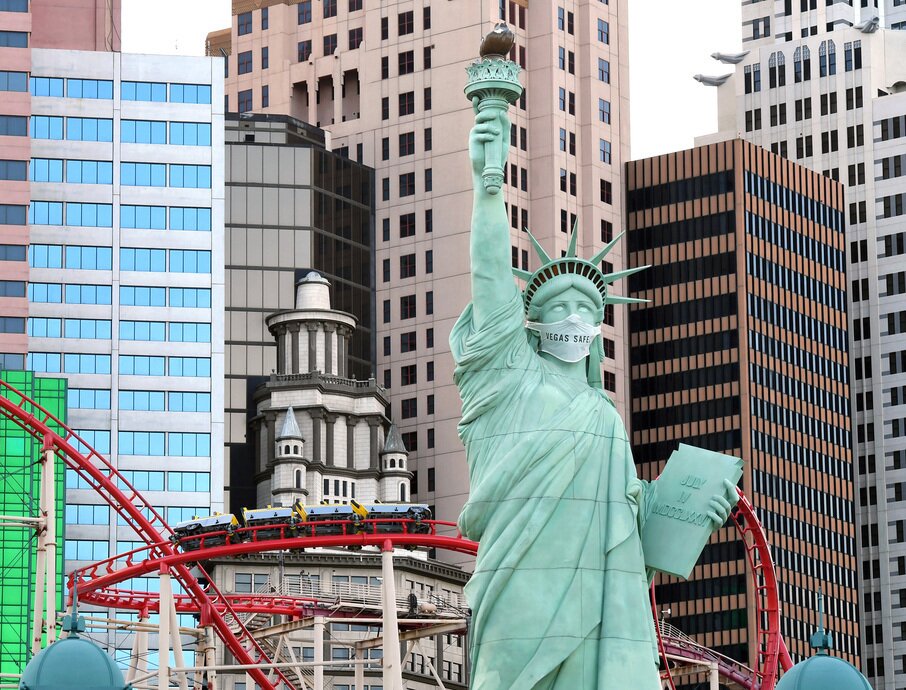 This week's casino news includes a Mission Impossible-like scam where a man used prosthetic face recreations to steal identities. Before we go there, let's recap a couple of other important pieces of news in the casino world.
Las Vegas Casinos Experience Steep Decline In June Revenues
Casinos in Las Vegas have been opening back up for the first time in months after the shutdown due to COVID-19. Nevada casinos were able to collect $566.8 million in gross gaming revenue during their first month back, which is better than the complete flatline in previous months, but it's still not great. That's because this number represents a 45.5% drop in revenue compared to June of 2019.
It's important to have some perspective as these revenues will be welcome sight for the casinos. It crushes their totals of $5.8 million in May and $3.6 million in April. The casinos on the Las Vegas Strip have been going through the worst revenue drop out of everywhere in the state due to how reliant they are upon tourists. Even with travel mostly stymied, it's a positive that they're at least putting up some modest numbers.
The Strip casinos were able to win $238.3 million from bettors, which is still a 61.4% drop compared to this time last year. Other places like Clark Country went through a 51.4% drop, and Downtown Las Vegas went through a 55.7%% decline in revenue.
Multiple Nevada Gaming Properties Skirt Safety Measures; Set To Get Fined
Nevada regulators have been seeking fines against two casinos in rural Nevada and a bowling alley over in Lake Tahoe after complaints surfaced about the properties not complying with COVID-19 safety mandates. The biggest complaint that the regulators were getting was the properties not forcing guests to wear face masks and therefore putting everyone at risk.
The Lake Tahoe bowling alley was also reported to be keeping their bar open along with operational gambling machines. Gov. Steve Sisolak had forced bars to close again back on July 10th, so this is technically not allowed. The owner of the bowling alley plead ignorance, stating that he wasn't aware of the recent changes.
Sisolak has recently allowed betting establishments resume business (on June 4th) after their extended three-month shutdown. There have been more than 10,000 reported inspections by regulators from the state to make sure that all properties are in compliance to the COVID-19 regulations.
Man Arrested For Using Prosthetic Faces To Steal From Casinos
A man from Michigan was recently arrested for using prosthetic face masks to pose as elderly gamblers in order to rip off multiple casinos. He was able to scam a casino in Michigan for over $100,000 with his disguise and fake ID's.
The culprit had a plan to dupe the casinos and what he did was pose as various VIP gamblers to obtain cash advances from their kiosk machines. He was regularly withdrawing five figures worth of cash from multiple machines in different casinos, which is only available to customers of a certain loyalty level. Normally, players have to go to the casino cage.
He is suspected to have used his disguises on 10 different people at the MGM Grand Detroit back in April and May of 2019 while taking $98,840 from the casino.
He was later caught trying to sneak out after staff had alerted security and was found with multiple prosthetic face masks and a number of fake ID's. That put an end to his theft and landed him behind bars.